HUD for Holdem Manager 2

In this article, you will find links to free HUDs for Hold'em Manager 2. If you do not understand what HUD is, we recommend you to get acquainted with our article about HUD.
Also, there are HUDs for Poker Tracker in a separate article with links to free download.
Use summary on the left for speedy passage to HUDs you are interested in. Please note that some HUDs are equally well for different types of poker.
Free HUDs: where to download them, pros and cons
A common question of beginners is: "Where can I download HUD?" However, first of all, it is needed to ask: "Is it worth downloading?" It means whether there is a need to download it from others, rather than hesitation in using poker tracking statistical program. There are advantages and disadvantages in it.
Advantages of free HUD:
You receive configured HUD and there is no need to puzzle out all stats suggested by the program;
There is no need to set additional pop-up windows;
Time-saving for installation;
It's free.
Disadvantages of HUD usage from the internet:
Free HUDs are often a simplified version of paid HUD, that's why they work not perfect;
HUD is set up for somebody in such a way that is suitable for him. But it does not mean that it will be also suitable for you;
Probably you will spend a lot of time searching for a good HUD;
You do not need to understand how to configure the stats, but you'll have to figure out how somebody has already configured them
You can obtain more or less good HUDs at poker schools, from coaches or purchase them from professional players. However, it doesn't guarantee that you will have a perfect poker tracking statistical program. It's better to set HUD up individually for yourself. At the first attempt, you are unlikely to do it well. You'll have to spend a lot of time, effort and energy.
As the best option, we advise to download free HUD and then gradually adjust it for you.
Where to download HUD HM2 for free
Many ready-made HUDs in HM2 for cash are posted on different sources free of charge. They are subdivided according to the type and structure of the game. But at the same time, most of HUDs are adapted to different tables and may be suitable both for heads-up players and for amateurs of 6-max and full-ring. Also, they can be used at the cash-tables and in tournaments.
The safest way to download ready-made HUD Holdem Manager free of charge is directly on Holdem Manager website. In order to do it, you should log in to holdemmanager.com. We've selected the top-rated HUD for HM2 and placed them in this article. In order to download free HUD Cash HM2 and tournament HUDs you just need to click on their titles.
Additional pop-up windows or pop-ups for HM2 may be downloaded with HUD. They are embedded in the file automatically.
Free HUDs for Holdem Cash HU
Here are the most popular and highly appreciated HU HUDs:
Kireev (729 downloads, evaluation is 5)
It is popular HUD from Russian-speaking forum Poker Strategy. It displays the following statistics:
The first line of top bar: TST Tables, Win Rate
The second line of top bar: PF VPIP, PFR total, Call Open total, Flop Agg percent, Flop Fold to CB, Single Rsd Pot
The first line of bottom bar: PF 3Bet, Fold to 3bet, Tot 4Bet Range, Tot Fold to 4Bet, Tot Squeeze
The second line of bottom bar: Tot Steal, Tot Fold to Steal, Went to showdown (WTSD), WonSD percent (W$SD), Hands
10 pop-ups come as a set.
It's also suited for 6-max and 9-max tables. Some use HUD in MTT.
SamuraiHUD-Lite-v1-1 (1 410 downloads, evaluation is 5)
The light version of SamuraiHUD is the result of hard work of heads-up poker player. SamuraiHUD Lite does not require NoteCaddy, it uses only embedded HM2 statistics, but at the same time, it is a very powerful HUD for heads-up games.
The statistics output by SamuraiHUD-Lite-v1-1 is quite extensive. It consists of 6 bars and 66 pop-ups.
Name, Total Hands, Big Blinds, Postflop Aggression, Flop Agg, Turn Agg, River Agg are displayed in the top bars.
Earlier versions collected in total about 2 000 downloads on Holdem Manager website.
Despite the fact that it is simplified version, it is intended not only for HUD, but also for 6-max and 9-max cash-games.
ERV123 (149 downloads, evaluation is 5)
It is free HUD for cash and tournaments with a small bar and 6 pop-ups.
Displayed stats:
Name, Hands, VPIP Tot, PFR Tot
PF 3Bet, Tot Fold to 3Bet, BTN Steal, BB Fold to Steal
Flop CBet, Flop CBet-Fold, Turn CBet, Turn CBet-Fold, River CBet, River CBet-Fold
Flop Fold to CB, Flop Raise CB, Turn Fold to CB, Turn Raise CB, River Fold to CB, River Raise CB
Udbrky (5 649 downloads, evaluation is 4) is a similar but older HUD. Both of them are used at all cash-game tables and in tournaments.

Other HUDs that are suited for heads-up: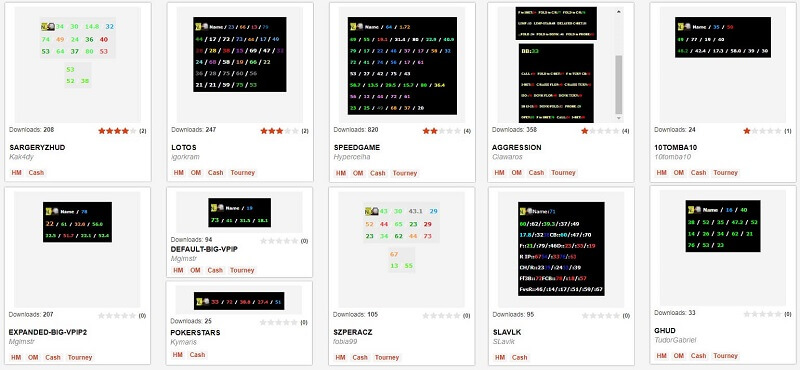 More detailed information you can read on the official HM website.
HUDs for 6-max cash-tables
Almost all the above-mentioned HUDs for heads-up games are suited for 6-max tables. You can download any HUD and pop-up. Kireev, SamuraiHUD, ERV123 and others also are suited for 6-max. The list can be expanded by a couple of configured bars.
6Max (1 188 downloads, evaluation is 5)
It is HUD with current preflop and postflop stats (5 bars). Green color means loose stat, white color means optimal stat and red color means tight stat. There is a special pop-up for each indicator (their total amount is 24).
Basic 6max (1 081 downloads, evaluation is 5)
It is a small 6-max HUD for micro-limits that includes basic statistics on preflop and postflop.
My hud by romouse (271 downloads, evaluation is 5)
It is a free 6-max HUD with 20 pop-ups for HM2.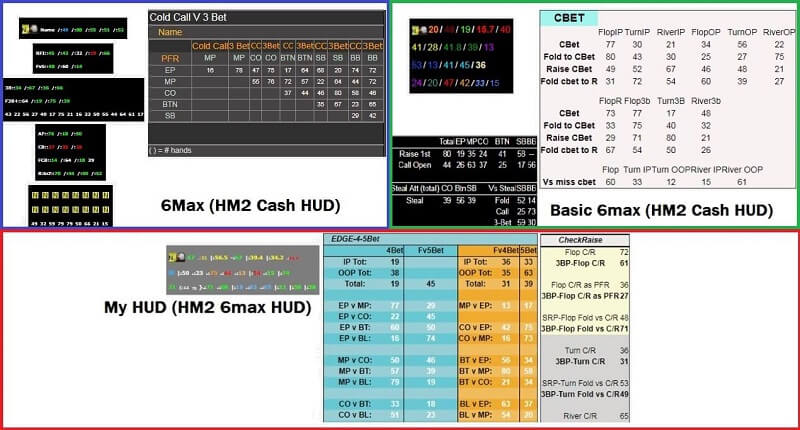 Other free HUDs for 6-max (apart from heads-up HUDs):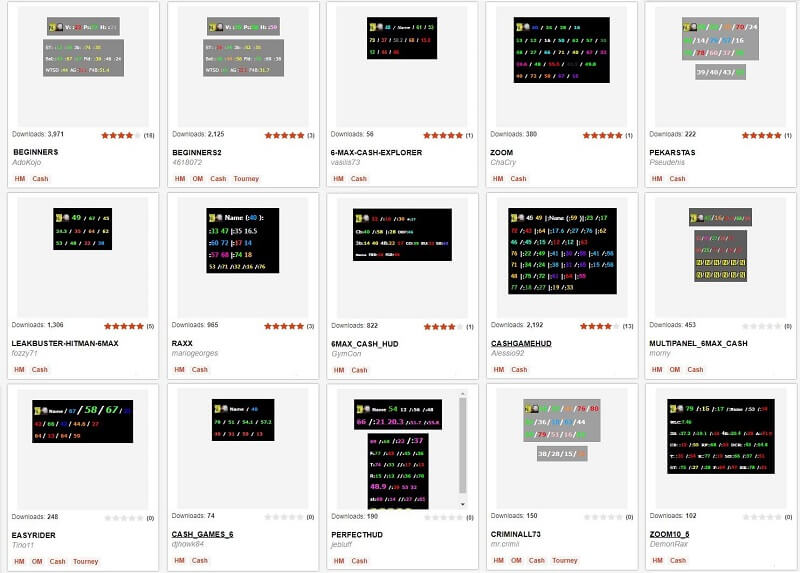 HUDs for 9-max cash-tables
Some heads-up HUDs and 6-max HUDs are suited for full-ring (9-max) tables. Kireev, SamuraiHUD, ERV123 and Beginners are the best ones. If you play strictly 9-max, we can recommend the following free HUDs:
It is a simple HUD for 9-max.
The main (top) bar:
Hands, WTSD, W$SD nosmall
Tot VPIP, Tot PFR, Postflop Aggression Factor, Postflop Aggression
Tot 3Bet, Tot Fold to 3Bet, Tot ReSteal (3Bet vs Steal), Tot Fold vs Resteal
Shorts bars:
BB Fold vs SB Steal and BB 3Bet vs SB
Tot Fold To Steal and Tot ReSteal (3Bet vs Steal)
SB Fold to 3Bet from ip and SB Steal
It is more extensive HUD with practically no pop-ups. As it is stated in the title this is a HUD for 9-max No-limit Holdem cash-tables.

Download free HUD HM2 for tournaments
HUD Holdem Manager 2 for tournaments and cash-games has no special difference, that's why initially you can use one HUD for all tables. SamuraiHUD, ERV123 and Beginners2 will be suited for you. But there are the following HUDs that are created especially for tournament players:
It is HUD for hyper tournaments + 4 pop-ups.
It collects statistics in speedy tournaments.
It is a main HUD for tournaments.
It is straightforward and easy HUD for MTT newbies and SNG beginners and also for micro-limits' players.
The following indicators are displayed in the table: Name, Hands, Tourney M, Aggression Factor Tot, Tot RFI, Tot VPIP, Tot PFR, PF 3Bet, Flop CBet, Flop Fold to CB, Tot Steal.

Another tournament HUDs:

All the above-mentioned HUDs for MTT HM2 are simple in usage. They have a small quantity of stats and are used almost without pop-ups.
Download free HUD for Spin&Go
You can select a perfect HUD for MTT in HM2 or for cash on the site. Spin&Go fans have to search for a good HUD because this discipline is relatively new. Usually, tournaments settings or heads-up settings are used for them. You can download convenient HUD for Spin&Go HM2 on our site:
Holdem Manager 2 HU Panel Nash ROFL
It is a free HUD for Spin&Go for HM2. Initially, it was tailored for heads-up plays. It has embedded pop-up tips with Nash equilibrium tables.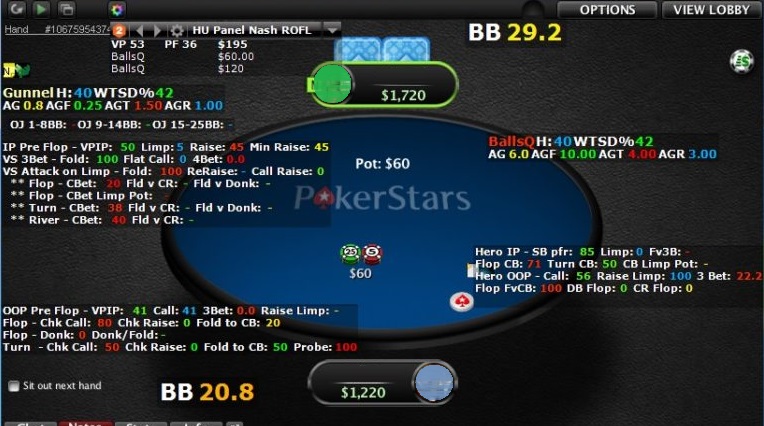 Professional players' HUDs
Many professional players share their HUD, especially those who carry out training. However, as a rule, such tools are paid. You can buy the HUD of Anatoly Filatov, Mikhail "Inner" Shalamov, Leonid "LEBRONKA" Logunov and other Russian-speaking regs and poker coaches.

Its cost ranges between 9$ and 55$.
Foreign professionals sometimes share their HUDs in streams, social networks or on poker forums.