PokerStars HUD and Hand History Import Setup

​
PokerStars HUD is mainly used by professional players to get information about their opponents at the tables (which is extremely important!).
It is displayed as a small table with numbers next to a player's alias. Having this software allows you to work on your play more qualitatively and thus improve your poker skills faster.
For many years, most players have been displaying statistics using Holdem Manager 2. It provides insight into opponents' behaviour as well as helps determine your own leaks. Especially positive is setting up HM2 requires minimum effort – just a few simple manipulations and the tracker tool is ready for use.
UPD!!! Stars have released the HM3 version. You can no longer download HM2, its days are numbered. We do not recommend installing the program if you find an installation file on the Internet, cause it could be virus infected.
We also note that Holdem Manager 3 setup is not much different from the previous version. There are some new features, but the basic steps are virtually identical.
Configuring PokerStars HUD & Hand Import
Setting up Hold'em Manager involves many actions, but most often users experience difficulties with the following three stages:
connecting Poker Stars to the HM2 system;
importing hand histories into the tracker tool;
HUD setup.
Don't worry, there is nothing complicated here, as the program interface is clear and easy to use. You will see it for yourself after reviewing the step-by-step instructions below. So, first of all, you need to undergo the PokerStars download process and install the brand's client on your computer (the basic requirement is an English version). Have you already done it? Then proceed to perform the following set of actions:

Step 1
On the local drive C, create folders where your hand history will be stored: "MTT" (for multi-table tournaments) and "Cash" (for cash games).

Step 2
Run Holdem Manager 2 and go to the "Site Setup" section.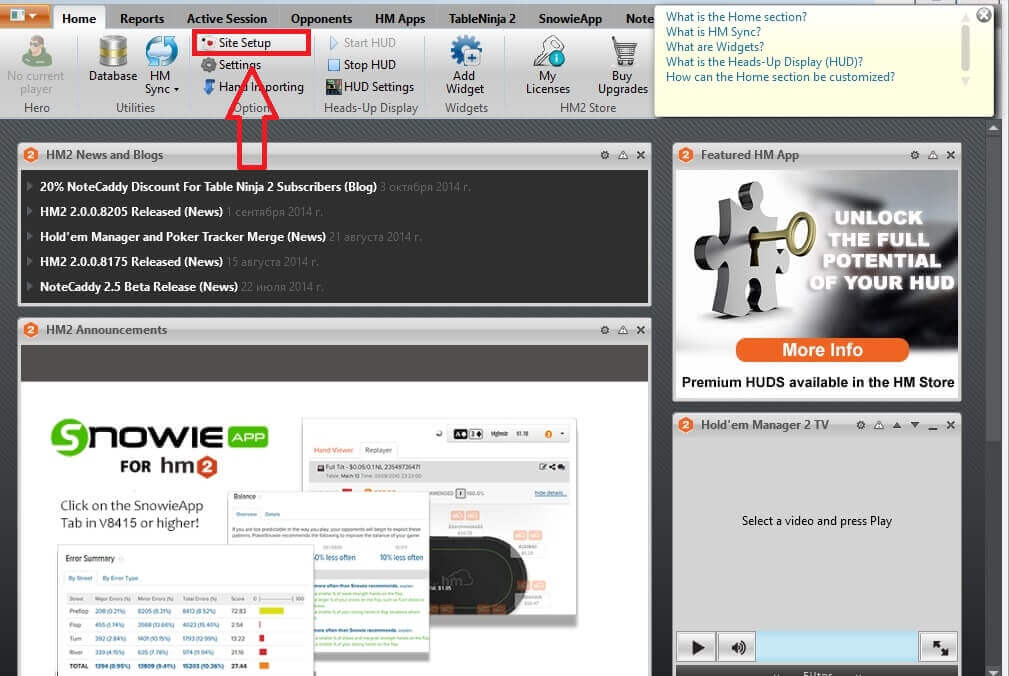 Step 3
The complete list of supported poker rooms will open in a new window. You should select PokerStars, of course.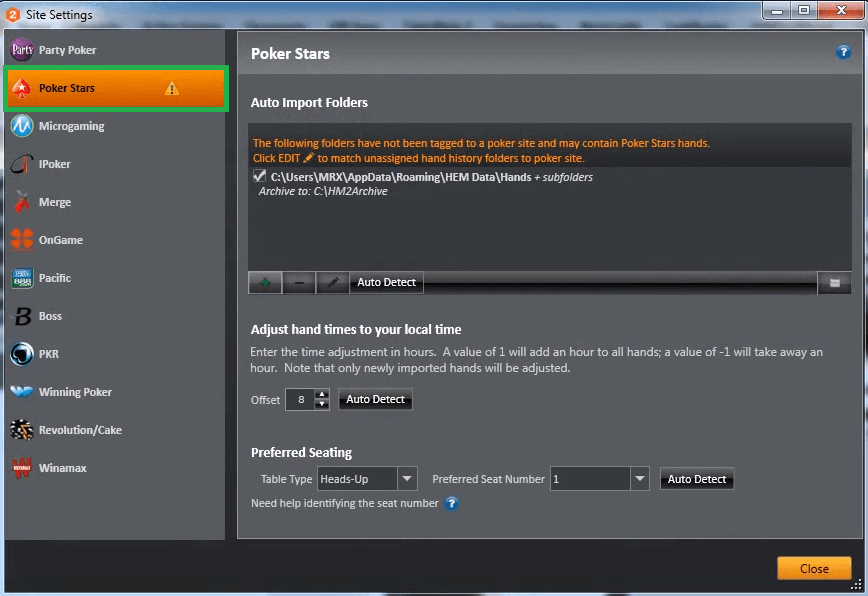 Step 4
Click on the "+" button and add previously created folders.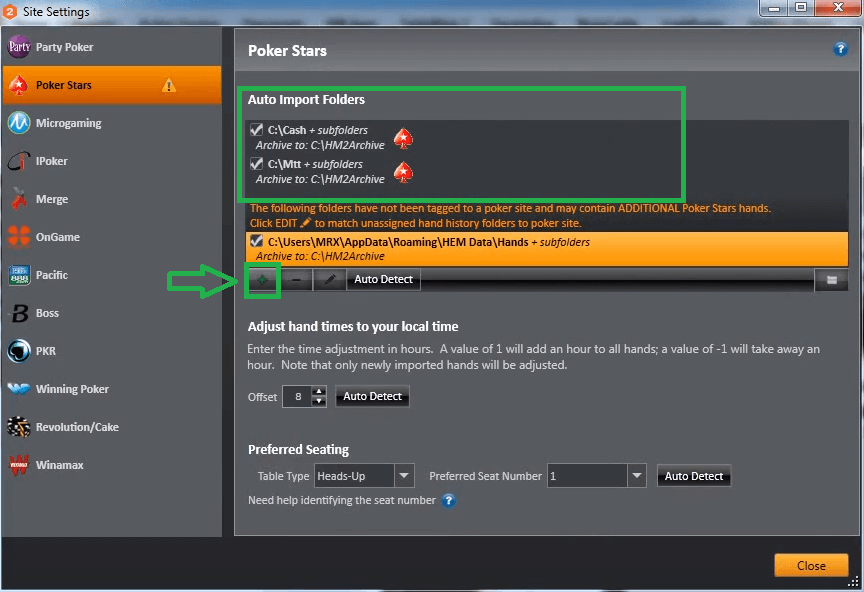 Step 5
The same window displays a default path for hand archive backup. You should first click it, and then the little pencil icon.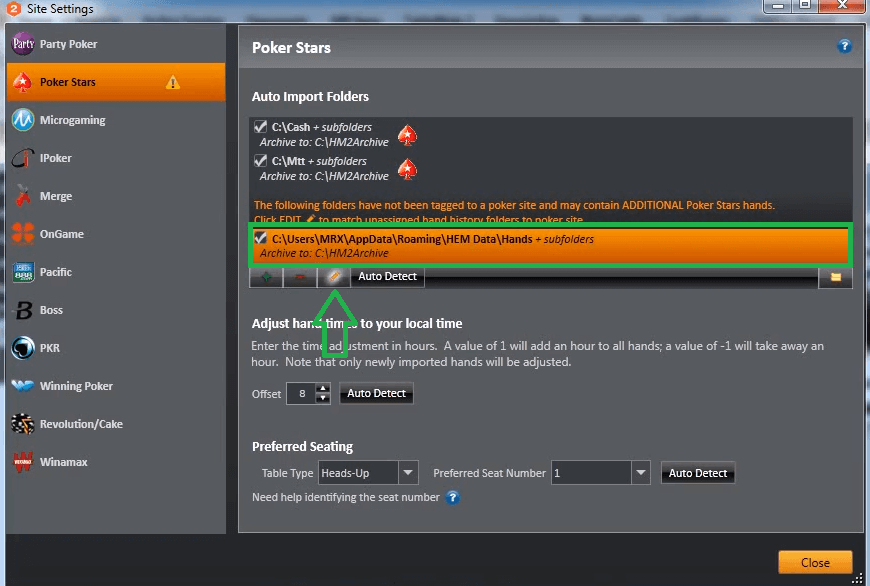 Check the box "Include sub-folders" and confirm the settings by pressing "OK".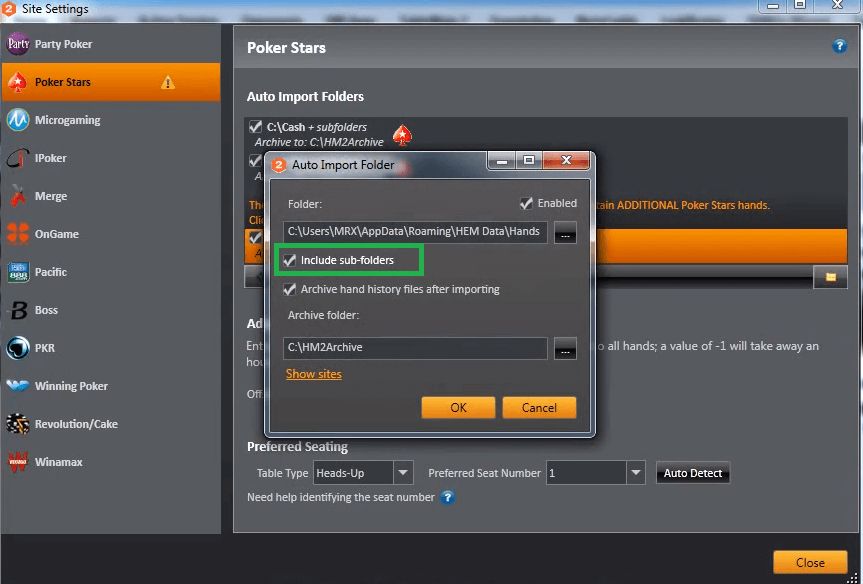 All that's left is to double-click "Auto Detect" and close the window (click "Close").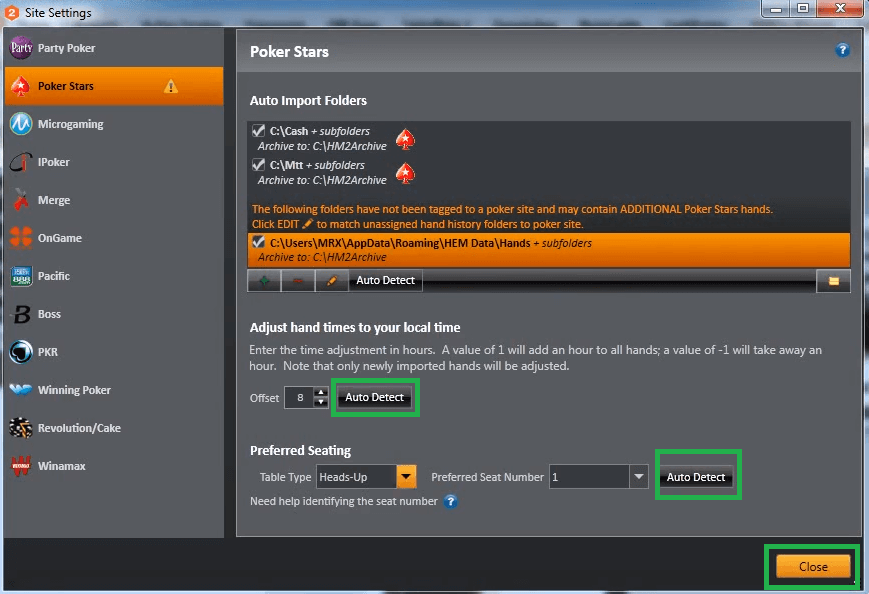 How do I enable HUD on PokerStars?
As mentioned earlier, HUD is a set of statistical indicators displayed on top of the poker table graphics (next to the player's seat). For instance, it shows how often your opponent raises preflop or how often they fold to the subsequent c-bet on the flop. To have such statistics before your eyes means to have an advantage. After all, you will always know whether your rival is an aggressor or a nit (who uses an extremely tight strategy), so you can adjust to their behaviour.

Step 1
Open Holdem Manager 2 and click "HUD Settings".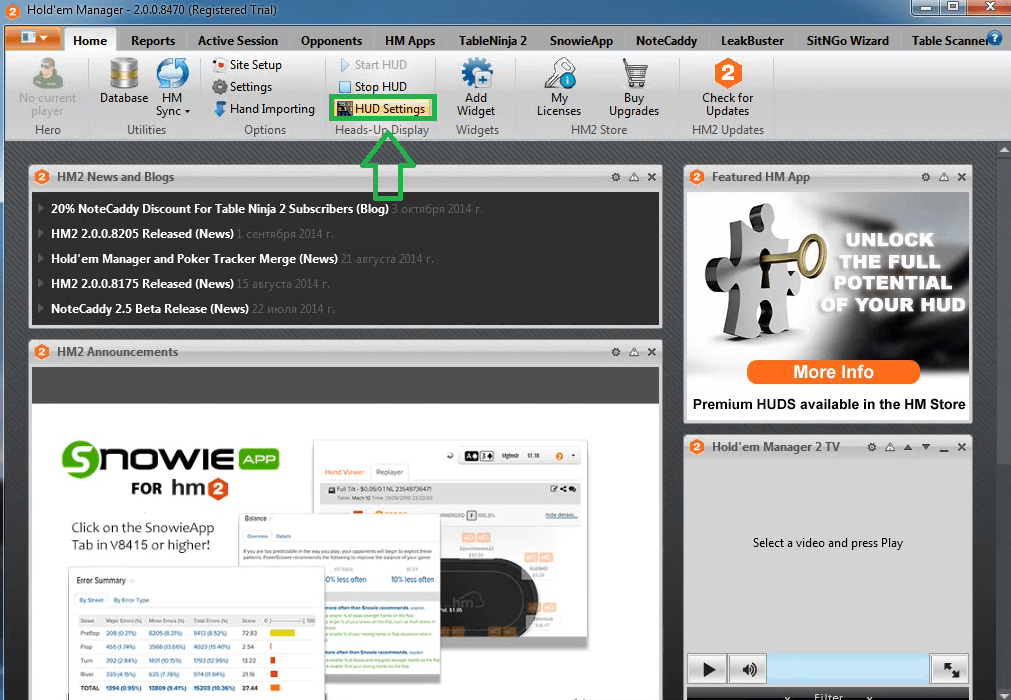 Step 2
Further, a new window will open. Click on the "Site Options" tab in the left-hand menu. Here you need to choose from the options presented:
poker site ➩ Poker Stars;
way of displaying HUD elements at the table ➩ at your discretion;
discipline ➩ Hold'em or Omaha.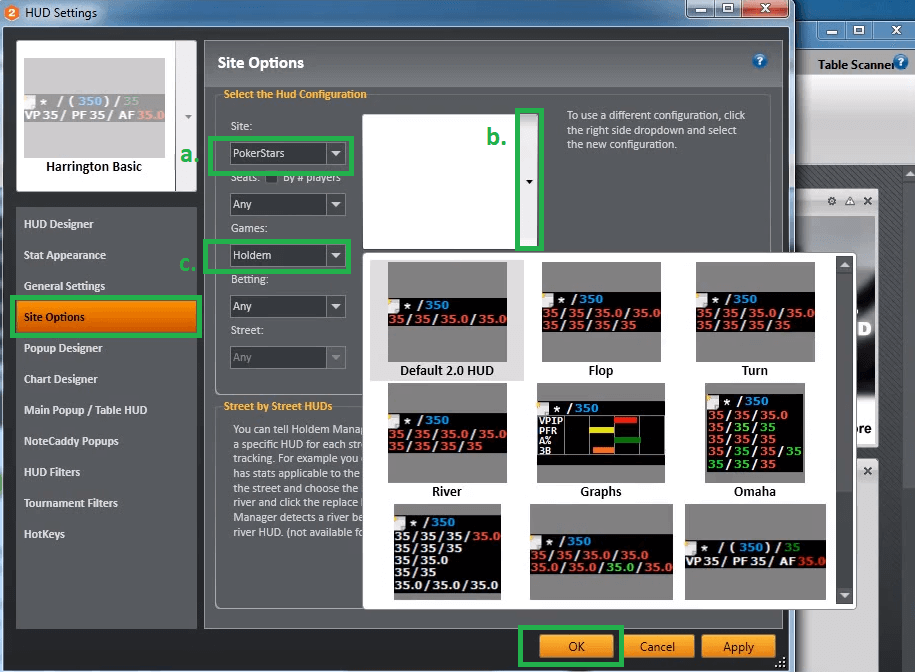 Step 3
Finally, click "OK " and restart your computer. Now Holdem Manager should work correctly in the room.
How to Save Hand History on Your Computer
To save PokerStars hands on your desktop or laptop, you will need to complete only two steps once logged in:

Step 1
Go to the "Settings" menu, click on "Table Appearance" ➩ and "Preferred seat". Select "Don't Auto-Center me" and then manually tick each table.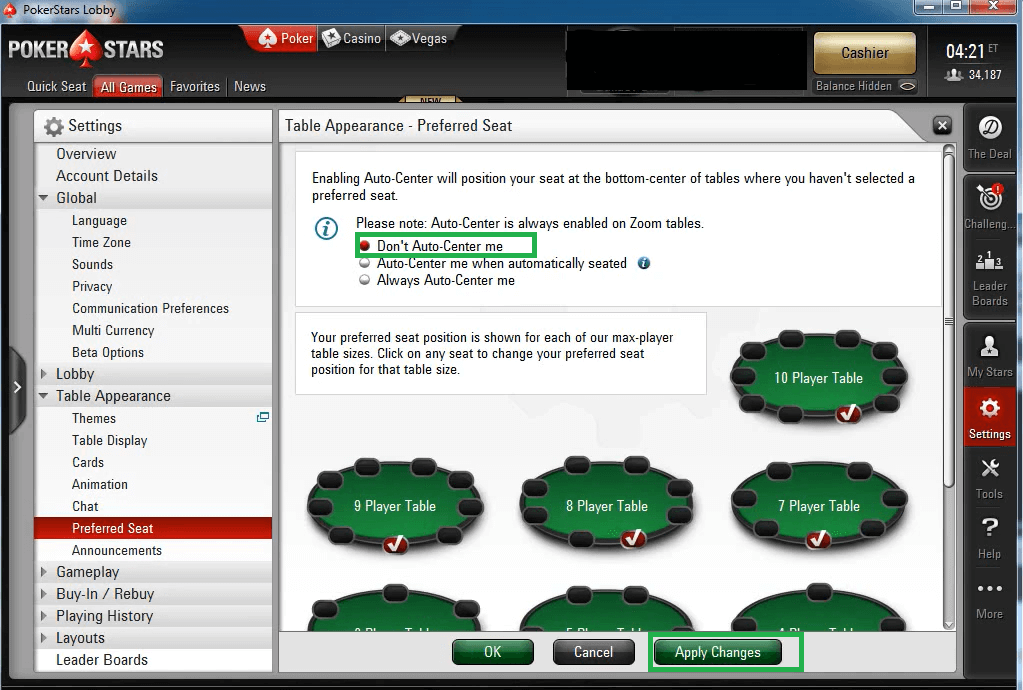 Step 2
Specify the folders you want to import your hand history into: "Playing History" ➩ "Hand History" ➩ "Change Folder" ➩ and "Cash" folder.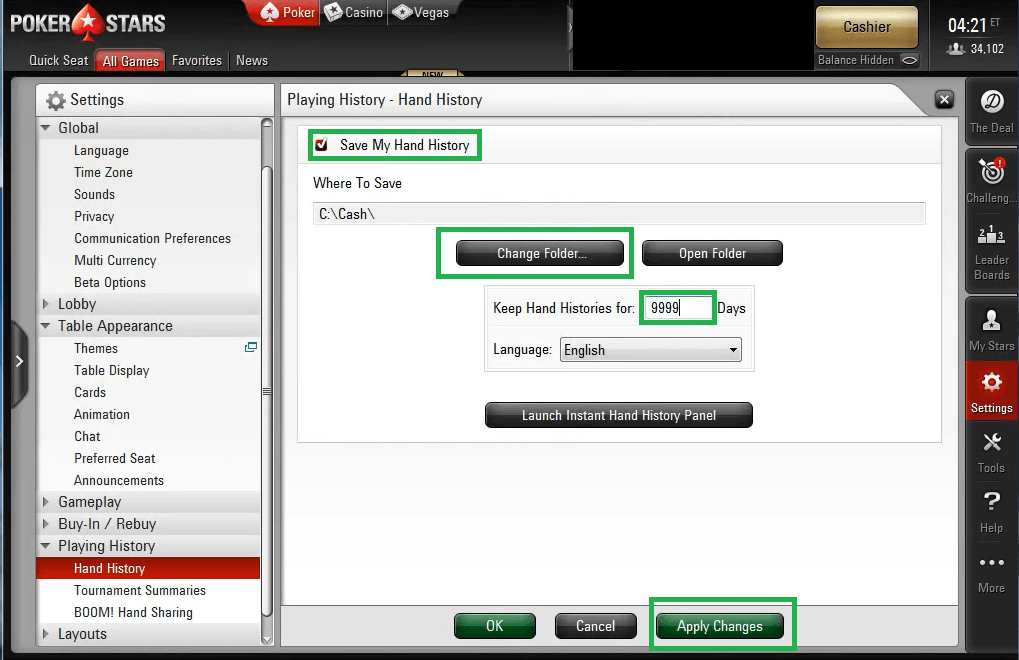 Be sure to check the box next to "Save My Hand History" and set the maximum possible number of days (which is 9,999) in the "Keep Hand Histories" column.

Stars players, take note!
To save your hand histories from tournaments played, follow the above instructions but pick "Tournament Summaries" instead of "Hand History" and choose the "MTT" folder (not "Cash").

How to Get PokerStars Free HUD Version
Well, Holdem Manager is paid, and its price depends on the limits you play. Here are the available options:
Small stakes (Hold'em): $60
Small stakes (all disciplines): $100
All stakes (Hold'em): $100
All stakes (all disciplines): $160
We note that HM3 does not require monthly or annual payments and quickly pays off the money invested. The Small Stakes version is designed for micro-stakes users who play cash games up to NL50 or tournaments with buy-ins up to $22. It is cheaper, but it will not work at higher stakes.
Free poker HUD for PokerStars
Great news: all players have the opportunity to download a trial version free of charge. To do this, go to the official website and click on "Download Free Trial".
Possible Issues and Troubleshooting
As a rule, HUD turns on automatically when you launch Holdem Manager and PokerStars. But on poker forums, you may sometimes find comments stating that HUD is not showing up or whatever. Here are two main user complaints and ways to solve these problems:
| Issue | How to Fix It |
| --- | --- |
| HM2 not opening | Launch the program as an Administrator. To do this, right-click on the HM2 shortcut and select the appropriate option. If that fails, delete and reinstall Holdem Manager. |
| HUD not showing up on PS | Make sure you've run the right poker room. Update HUD to the latest version. This need is easy to check: if the red button "Updates" is on, then updates have been released and you should run them. |
Final Thoughts
Holdem Manager, like most similar software, is a paid program, but the investment pays off with interest, as one's winrate usually increases within months or even weeks. Even micro-stakes players are scraping money to get at least a base-level version of this tracker tool. And regs normally purchase the advanced one.
Since the developers no longer support HM2, you should switch to the latest version, namely HM3. Or, try something from analogues, for example, PT4. Setting up Poker Tracker 4 for PokerStars is generally similar to the program discussed in the article.

PokerStars
100% First Deposit Bonus
Make your first-ever real money deposit using the bonus code 'STARS600', and we will give you a 100% bonus up to $600. To claim the full value of the bonus, you can make up to three qualifying deposits in 60 days.
Alternatively, deposit using code 'THIRTY' and claim $30 of free play.
How the 100% First Deposit Bonus works
Once you've made your deposit, you need to earn redemption points by playing real money games. Unless stated otherwise, you will earn 5 redemption points for every USD $1 you pay in rake or tournament fees (6.5 points per £1, 4 points per CAD $1, or 5.5 points per EUR €1).
Every time you reach 180 redemption points we'll credit your Stars Account with $10 cash. You have four months after each qualifying deposit to earn all the redemption points needed to release your bonus.
You may only take advantage of one of our first deposit offers, but may be eligible for further deposit bonuses open to existing players. You can view any bonuses you have, alongside information on expiry dates, redemption point requirements and more, under the 'My Stars' menu.
Please note that redemption points will not be earned at pot-limit or no-limit tables with blinds of $5/$10 or higher, 8-game tables with stakes of $20/$40 or higher, or other limit games with stakes of $20/$40 or higher.

B

Not available for players from your country
FAQ
✅ Does PokerStars allow HUD?
Yes, Stars currently allow using heads up display products in some form. That's no surprise as the poker room is literally packed with regs, and these users are known for their addiction to auxiliary software. On the official PokerStars website, you will find an exact list of prohibited and acceptable HUD software. For example, you can freely use Holdem Manager and PokerTracker.
🔥 What is the best HUD for PokerStars?
Well, the #1 HUD version poker pros usually recommend is Holdem Manager. The program also comes with the ability to import a hand database, which has become indispensable when learning to play poker with a coach. This allows you to analyse students' hands remotely, find leaks in their play and work on them.
Albeit HUD from PokerTracker 4 loses to HM in competition, it still has a large group of devoted fans. Hand2Note, a relatively new player to the poker software market, closes the top 3. Subscription period: from one month to one year. There is also a free trial with limited functionality.
You gave this material a grade 5 from 5: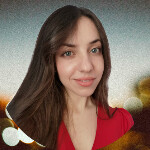 I've been working in the Cardmates team since 2018. Started playing poker the same way most people usually do – socially, with friends and fellow students. I adored those exciting poker nights but never thought my life would be connected with this game, even tangentially.