ICMIZER: Software Review

​
Icmizer is a professional tool for MTT, SNG, and Spin & Go enthusiasts.
With its help, you can analyze your game and make the most profitable decisions preflop according to ICM (an acronym for Independent Chip Model) and FGS (which stands for Future Game Simulation).
The software focuses on push-fold analysis, specifically on evaluating pre-flop situations during the late stages of tournaments, where users face the crucial decision of either going all-in or folding.
It's not only capable of modelling situations based on your specifications but also allows you to review hands you've played using the "Replayer" function. Besides, you can use it on your mobile phone.
What is ICMIZER?
This specialised poker calculator is most efficient at the late stages of tournaments. It models various scenarios, and your task is to choose the correct decision. The program will guide you on when to move all in and when to call/fold, explaining why you need to push and why muck cards.
Players no longer need to delve into the intricacies of poker math and complex calculations or learn to make predictions – the software will do it for you but much faster and more precisely.
This application will come in handy in many spots, but its maximum effectiveness is achieved when used in the following situations:
when facing an all-in from the Small Blind, and so you need to decide whether to call or fold;
if you experience any difficulties with understanding bubble play in MTTs;
if you rarely reach the final table with a big stack;
when deciding the optimal time to go all-in with a 5 BB stack;
if the button frequently steals blinds;
you play with a large stack having a weak hand against a short stack;
you play with a medium stack (10 BB) and a medium hand against an opponent with a bigger stack who goes all-in.
Capabilities of the Software
ICM calculations, taking into account lots of different factors and displaying options against each of 169 possible hands.

​

In MTTs, calculations are performed up until the final table. In addition, the tool allows people to parse tournaments with progressive knockouts.
Each stage of calculations provides a detailed analysis, ensuring the accuracy of the results obtained.
Visualization of hands at the table enhances the ease of information perception.
Possibility to edit actions.

​

Charting.
Application of Nash equilibrium principles.
Easily create tournaments of different formats for further analysis in the program (the process of creating itself is extremely fast).
Loading hands and even tournaments from the best online poker rooms.
Convenient display of the loaded hand list for easy comprehension.
Possibility to shift a hand in Replayer immediately (if it is available).
The app offers several levels of FGS depth, which allows you to make predictions more precisely.
SNG Coach Tool
Since using the discussed software during gameplay is prohibited, it would be beneficial to practice your push/fold strategy. This is where SNG Coach comes in.
In essence, it replaces training sessions with a coach. Each day, 120 questions are available to users, which can be roughly compared to 2 hours of training.
Pro-subscription holders can purchase an additional 5 000 SNG COACH questions for more intensive workouts.
ICMIZER3 has upgraded the SNG Coach module. Changes have been made to the interface, with questions now appearing one at a time instead of all at once as before.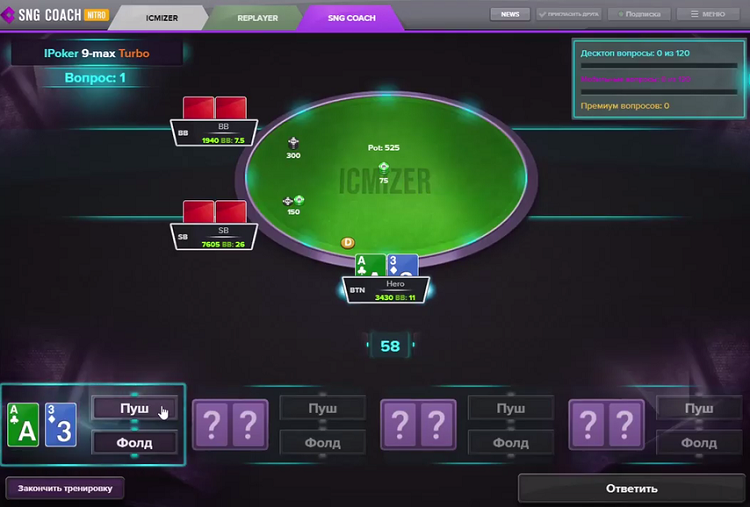 ​
Additionally, it is now possible to adjust the training parameters. With it, you can work on weak points in your game.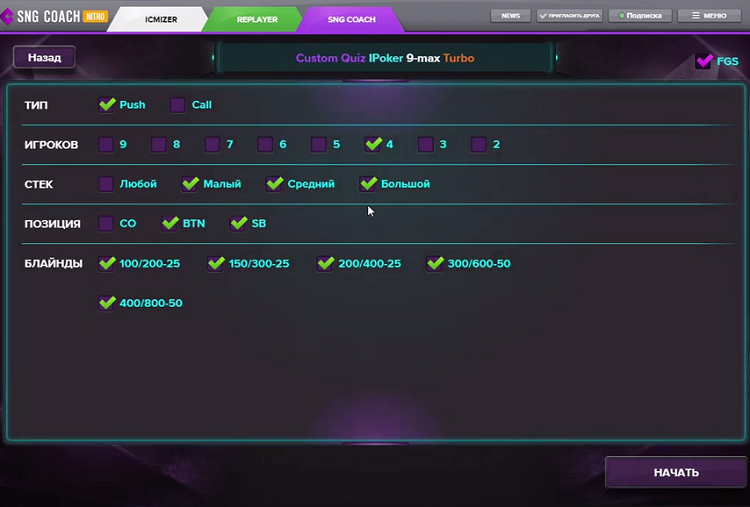 ​
The training tool features
Push-fold training according to the individual parameters. The user chooses tournament type from the variety of popular SnG and MTT, the number of players at the table, stack size, blinds' level and position at the table.
Generation of training tasks according to your discipline. The app will create situations for you in which you should decide which is more profitable – push or fold.
Training in a game format. The training takes place in a comprehensible interface in the format of choosing a push or fold in a time constraint.
Internal leaderboard. Your progress is visualized as a percentage in respect of the success of other users.
Wide variety of tournament types. There are almost all types of the popular SnG in the program, including knockouts, and many MTT options. You can filter them according to your preferences.
Modification of tasks based on your answers. If you do well, the tool makes tasks more difficult, but if something is more difficult for you, then it simplifies the task.
Hand Replayer Option
You can replay, parse and review any hand stored in the application's hand history if necessary. There is a possibility to sort your hands by the size of the won pots and by the type of action (your all-in or call of other players' all-in).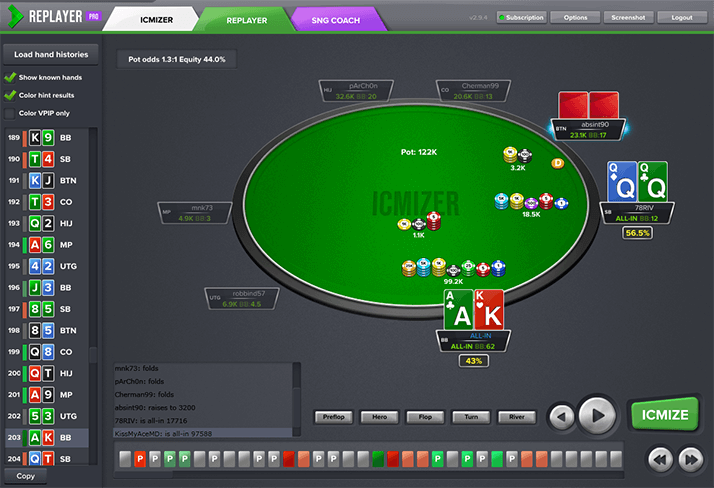 Replayer of hands on the preflop. The ability to view your hand for primary analysis.
Sending hands for analysis to the software. The programs use one base that allows you to instantly transfer a disputed hand for deeper analysis through the ICIMIZE button.
Grouping of hands by colour. Each shade represents the pot size won or lost in the hand.
Hand marking by decision type. It allows you to sort actions by decisions and track the patterns in hand.
Odds displaying. The program automatically determines pot odds on all streets, as well as winning odds.
How to Use the Program: Tutorial
Despite vast functionality, it won't be challenging to use the app. For convenience, its developer recorded a long video demonstrating the setting for beginners. Everyone can watch it below.
​
Also, you can read tutorial materials at the creator's official website by selecting "Support" – "Training" in the upper menu.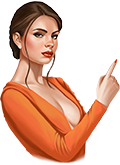 System requirements
Operating system Windows 7,8,10 / Vista (64-bit) or Mac OS X 10.10. and also an installed Silverlight plugin.

What's New in Edition 3?
In the second version, to calculate the range at another position, Hero had to be moved to the right place. Now, calculations have already been made for each position, and the results are easy to view.
The third edition has a new ability to assign weights to each hand. Use the top slider or mouse wheel. Hover over the desired hand and scroll the wheel.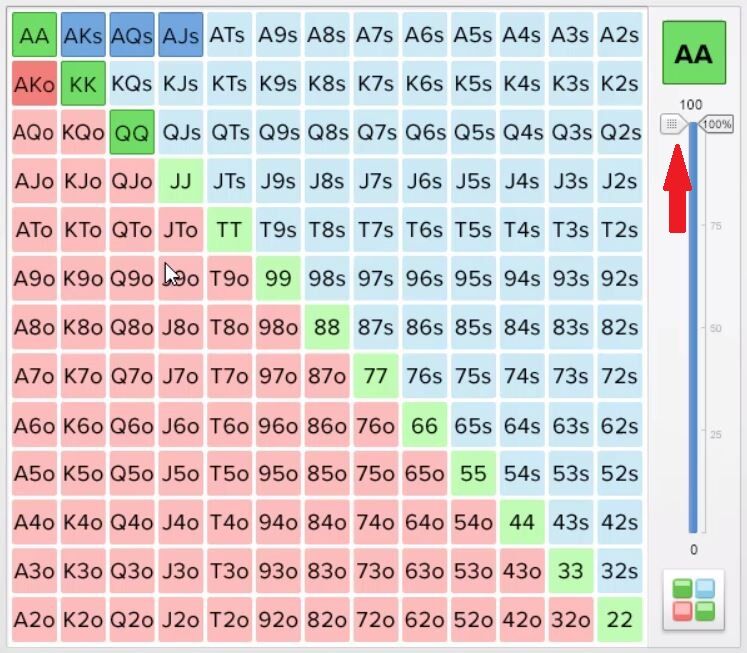 ​
After making changes to the range, an automatic lock occurs with a checkmark on the Lock item. After that, the equilibrium ranges will be calculated for all positions at the table.
After clicking on the Calculate Hero button, the program will calculate the best range. After you click on this indicator, the indicator for each player is calculated taking into account the blocked ranges. From the frames of different colours, you can determine the range.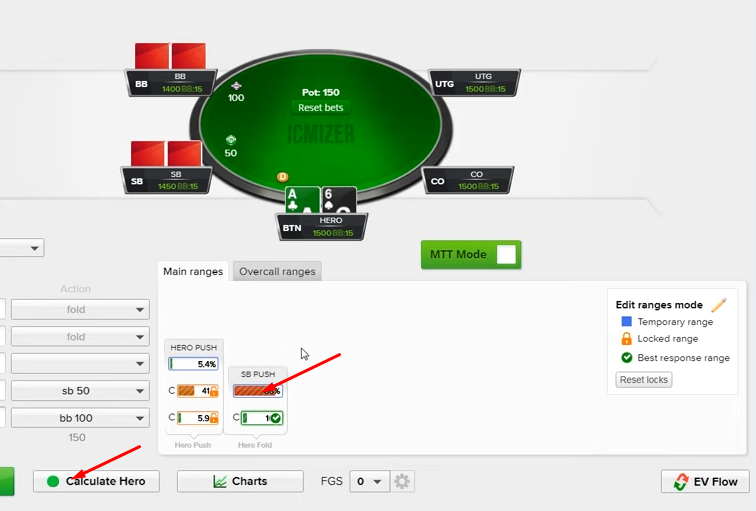 ​

Automatic hand analysis without NITRO mode
In the new version, the ability to automatically analyze their tournaments has become available for all subscribers. In the previous version, you had to pay extra for this feature.
To make an automatic analysis of hands you need:

Step 1
Download the tournament file.


Step 2
Indicate the number of chips in the game.


After that, a list of hands with errors will appear in the left block. They will be arranged in order from gross to minor. You can find out any mistake in a certain hand and make your own corrections.
In the automatic analysis, you can find out the remaining number of participants by the number of chips. Calculations can be used until the moment when the tournament will be more than 500 people.
Major Advantages and Benefits
Calculations in the most difficult situations in just a few seconds.
A wide range of possibilities. PRO subscription gives you access to all the features: hand analyzer, Nash equilibrium calculations, easy-to-use hand replayer and push-fold SNG Coach.
Visibility of work. Using the software, you can analyze every game situation with visualization at the virtual poker table.
Accuracy of results. This occurs due to the use of a new CFR+ calculation engine, the most advanced FGS model that takes into account the dynamics of blinds movement, the ICM model in MTT tournaments or the calculation in chips in the Chip EV mode.
It takes into account the details of the tournament situation. It will take into account your position at the table, the actions of your opponents, stack size and size of the hand weights that were set individually, as well as type of tournament and more.
It is intended for players of all levels. This soft is essential for everyone who wants to earn more in tournament poker. The lower your current level, the more benefit you will get from this software and the faster you can move forward with the new limits.
In general, players are satisfied with this software and leave positive feedback. Professionals also recommend using it.
Jonathan Little

Professional player and poker author

If you play tournaments, I strongly suggest you spend some time studying with ICMizer. Even if you only plug one or two leaks, you will see your win rate rise significantly.

ICMIZER Price and Free Trial
The range of features available depends on the type of subscription. ICIMIZER 3 free version is available to everyone, but it has limitations. You will only have access to a full analysis of one hand per day. As for the other additional options, you should purchase them separately.
| Subscription type | Monthly | 3 months | 1 year |
| --- | --- | --- | --- |
| ICMIZER 3 BASIC | $17.99 | $36.99 | $84.99 |
| ICMIZER 3 PRO | $32.99 | $66.99 | $152.99 |
| Add-on ICMIZER NITRO | $14.99 | $44.97 | $179.88 |
| Add-on SNG Coach Mobile | – | – | $95.88 |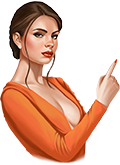 How to get ICMIZER 3 for free?
You can use a free account that provides several calculations a day, namely: 3 icm calculations and 1 calculation of Nash equilibrium. With such conditions, you can download ICMIZER for free and use it all the time. You will be able to use all functions of Basic subscription but only with a restriction of calculations a day.
Compatibility with Poker Rooms

According to the rules of real money poker sites, it is prohibited to use the program during MTT and SNG tournaments, as it gives users an unfair advantage over their opponents. This soft is intended for training and analysing played hands after sessions.
Don't open the program along with the client since you can get a warning or even a ban from the room for this. If you want to use the tool during your game, better open its mobile version.
Superb rooms to hone your poker skills

GGPoker
1. Players must be aged 18 and above to participate in this promotion.
2. Welcome Bonus and Honeymoon promotion for new players only over a limited period .
3. Welcome Bonus only available to new players that make an initial deposit. The minimum deposit necessary to obtain a matched bonus is $10, or if a player chooses the $100 in rewards the minimum deposit necessary is $20.
4. $50 Free Play offer made up of $52.50 in free All-In Or Fold SNG tickets from Welcome Bonus and $2.50 in free tickets from Daily Freebie.
5. Free tickets automatically credited to eligible players' accounts over a six day period.
6. A 100% matched deposit bonus worth a maximum of $600 can be claimed by players selecting 'Match Bonus' when making their first deposit(s) over a limited period.
7. Bonus cash is released at a rate of $1 for every $5 paid in net rake/tournament fees.

GGPoker standard rules apply. Play responsibly. www.begambleaware.org.

A

Available for players from your country

888poker
The following are the terms and conditions of the "£20 Bonus Package Promotion" (the "Promotion") for www.888poker.com (the "Site"). The Promotion is organized by 888 UK Limited.

This Promotion is an ongoing Promotion, currently without an end date, we will provide reasonable notice of when the Promotion is to come to an end (the "Promotion Period").
888poker may cancel, modify or suspend the promotion, and any of the bonuses or benefits offered hereunder, where required for security reasons, to comply with applicable law or regulation, due to abuse or otherwise where the promotion is not capable of being conducted as specified as a result of exceptional circumstances. Other than where necessary to prevent fraud or other similar unlawful behavior, any such modification, suspension or cancellation will not apply to you if you have already opted into the promotion, made a deposit in expectation of receipt of a bonus or other benefits offered, and/or commenced play in relation to the promotion, bonus or special offer prior to the date of the communication of the modification, suspension or cancellation.
No-one under the age of 18 may participate in the Promotion and the Promotion is only available to eligible members located in the UK.
You may be asked at any stage to provide us with a proof of age and/or identity.
You may only enter this Promotion once.
For security and verification purposes, we reserve the right to limit participation in this Promotion to: (i) one per household; (ii) one per computer terminal; or (iii) one per mobile device.
During their engagement period and for a period of 24 months thereafter, none of our officers, directors, employees, consultants or agents or any other company within our group of companies or our suppliers, vendors or white label partners are permitted to participate in the Promotion, nor is any supplier or vendor. This restriction also applies to relatives of such persons and for this purpose 'relative' means any of a spouse, partner, parent, child or sibling.
If you have a pending message on the Site's cashier regarding your recent gaming activity, we reserve the right to revoke your eligibility to participate and/or continue to participate in this promotion. In such event, any bonus and/or other benefit which you have received and/or are eligible to receive under this promotion, shall be forfeited by you.
The Promotion is a new registration offer with the Site and completely replaces any similar registration offer with the Site.
All bonuses and promotional offers, and any winnings generated through the wagering of either of the aforesaid, will be cancelled at withdrawal if any of the applicable conditions have not been met in full.
You hereby agree to these terms and conditions which govern the Promotion, along with the "User Agreement" which includes but is not limited to the "Bonus Policy".
Withdrawing funds your deposit balance (otherwise known as "Transaction Balance" in our Withdrawal Policy) is available for withdrawal at any time. General withdrawal terms apply, for further info see our Withdrawal Policy.
In order to meet the applicable wagering requirement, no real money shall be deemed to contribute (in full or in part) to the wagering requirement, unless otherwise specified by us.
Available funds will always be used before Restricted Funds (to include Money transferred) and the balance of both will be displayed in your My Account
Promotion

You may only participate in the Promotion, if you have not previously registered with the Site. If you benefit from this Promotion you will not be eligible to benefit from any other first deposit bonus or first deposit offer with the Site. If you have benefited from another first deposit offer with the Site you are not eligible to benefit from this Promotion.
You may not combine this registration offer with any other type of registration offer provided by the Site.
In order to be eligible and receive the Tournament Tickets (as defined below) granted under the Promotion, during the Promotion Period: (i) you must either download the 888poker client on PC or mobile application or click 'Instant Play' on the English non-download version of the Site; (ii) open a new user account with the Site; and (iii) verify his/her e-mail address by clicking on a link within the e-mail body or by SMS to the phone number entered within 14 days of the Site sending the email to you, otherwise the bonus offer will expire and you shall forfeit the bonus offer.".
Under the terms of this Promotion, eligible players will be entitled to receive £20 worth bonus (granted in USD at equivalent value of USD 25 in accordance with the Exchange Rate as defined in the User Agreement referenced above) that will be given as Tournament Tickets, according to the following allocation: 50 tickets of $0.1buy-in and 20 tickets of $1 buy-in.
Once claimed, Tournament Tickets will be granted in batches as follows:
First batch worth $5 (10 tickets of $0.1buy-in and 4 tickets of $1buy in) will be granted following your fulfilment of point 3 above.
Second batch worth $10 (20 tickets of $0.1buy-in and 8 tickets of $1buy in) will be granted 3 days after the bonus was claimed.
Third batch worth $10 (20 tickets of $0.1buy-in and 8 tickets of $1buy in) will be granted 7 days after the bonus was claimed.
If you don't use the Tournament Tickets granted under the Promotion within 24 hours of being credited to your account, such Tournament Tickets shall expire and you shall forfeit each of such Tournament Tickets.
Tournament Tickets
A Tournament Ticket possesses a fixed value and may only be used in tournaments that have a buy-in equal to that of the value of the Tournament Ticket. For the avoidance of doubt, Tournament Tickets may not be used as a buy-in for a tournament where the buy-in is less than the value of a Tournament Ticket.
A Tournament Ticket can't be used by a player to re-buy chips or to add chips to his/her stack during a tournament.
Tournament Tickets may not be: (i) exchanged or converted into cash; (ii) joined together to create a higher value ticket; or (iii) transferred by a player to another player.
For further terms and conditions in relation to the use of Tournament Tickets, please see our Bonus Policy.

A

Available for players from your country

PokerStars
100% First Deposit Bonus
Make your first-ever real money deposit using the bonus code 'STARS600', and we will give you a 100% bonus up to $600. To claim the full value of the bonus, you can make up to three qualifying deposits in 60 days.
Alternatively, deposit using code 'THIRTY' and claim $30 of free play.
How the 100% First Deposit Bonus works
Once you've made your deposit, you need to earn redemption points by playing real money games. Unless stated otherwise, you will earn 5 redemption points for every USD $1 you pay in rake or tournament fees (6.5 points per £1, 4 points per CAD $1, or 5.5 points per EUR €1).
Every time you reach 180 redemption points we'll credit your Stars Account with $10 cash. You have four months after each qualifying deposit to earn all the redemption points needed to release your bonus.
You may only take advantage of one of our first deposit offers, but may be eligible for further deposit bonuses open to existing players. You can view any bonuses you have, alongside information on expiry dates, redemption point requirements and more, under the 'My Stars' menu.
Please note that redemption points will not be earned at pot-limit or no-limit tables with blinds of $5/$10 or higher, 8-game tables with stakes of $20/$40 or higher, or other limit games with stakes of $20/$40 or higher.

B

Not available for players from your country
Let's summarize: we've discussed a truly powerful soft designed to improve your game. If you are serious about poker and consider the game as a way of extra income (perhaps even the main one), we recommend you download and test-drive the program for free. It will help you to increase your profit and ROI, as well as reduce mistakes to a minimum at the late stages of tourneys. This app saves you time due to the automatic analysis of the hands played. You will have a significant advantage over your adversaries who use Nash equilibrium or don't use any strategies at all.
FAQ
💁‍♂️ What is Icmizer used for?
This poker calculator is essential for any SnG/MTT player who wants to improve and make informed moves. It assists you in analyzing various tournament situations and provides accurate decisions based on ICM (Independent Chip Model). It will help you make the right choices and enhance your overall game.

🎯 Is Icmizer worth it?
The software significantly simplifies tournament players' life by combining excellent functionality with a user-friendly design. It offers multiple pricing plans suitable for users of all levels, as well as flexible options for plan duration. It is arguably the fastest, most efficient, and relatively affordable way to optimize your push-fold game to perfection.

👀 Can I download and use Icmizer free of charge?
There's a free 7-day trial (all functionality supported). Then, you will need to buy a paid subscription. Licenses are available for a month, quarter, half-year, or year.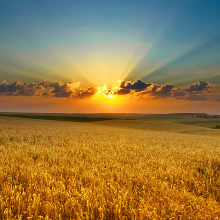 Cardmates journalist, news editor and translator since 2016. Specialization: poker news and review of events.