Is PokerStars Down? Typical Issues and Outages

​
PokerStars takes pride in its cutting-edge software, which is considered one of the best on the market.
Once in a while, though, players bombard poker forums with Pokerstars down reports as they desperately seek urgent assistance and remedial actions to resolve their problems.
We've compiled the most prevalent user queries regarding poker room malfunctions, along with suggested solutions.
By referring to this list of commonly encountered issues, you may find proper remedies and avoid the need to contact the Stars support team, thereby saving your precious time.
PokerStars Down: Common Origins for Failures
Well, Stars' website and software may go down for a multitude of reasons. Simple issues can be resolved independently, while more complex ones require assistance from support specialists. Most often, users encounter the following problems:
Client program malfunctions.
Blockage from your ISP (which stands for Internet Service Provider).
Blockage caused by your antivirus or firewall software.
Program functionality is affected by file integrity problems.
"Low System Resources" error occurs when opening a table.
If you encounter difficulties running the Stars client, make certain that your Internet connection remains stable and try to restart it. Should the poker client continue to malfunction, read our article for more in-depth information.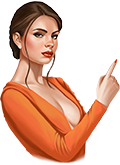 Is PokerStars having problems today?
Well, it all depends on the date you came across this page. Stars might be experiencing a major server outage right now. Or, maybe all the issues have been fixed by now, and the poker room has entered an era of technical utopia. It's anyone's guess 🙃

Troubles Launching Desktop Software
Such cases are most often attributed to technical disruptions, planned maintenance or server reboots. As a rule, users are notified about these events in advance, so make sure to monitor messages from the poker room. Nothing can be done in cases where servers go down unexpectedly – you simply should wait until everything is resolved. Alternatively, you can use this time to work on your leaks and expand your theoretical knowledge.
Firewall or antivirus software blockage
Poker clients might be blocked by certain antivirus and firewall versions due to their security configurations. Experiment by disabling these programs temporarily (either individually or both at once) to determine if PokerStars start working. In case the difficulties persist (Error code 118 may appear on the screen), restart both your computer and modem, review your antivirus and/or firewall software settings and add this poker room to the exclusion list. Then, try restarting your client program.
Launch failure caused by file corruption
Running Stars' software might be problematic if your computer is infected with a virus, or if the client files were accidentally deleted while performing OS updates. Usual solution is to reinstall the desktop app – short instructions are attached below.

Step 1
First, you should uninstall the previous version and delete all files in the folder.


Step 2
Then, navigate to the poker room official website and go through the PokerStars download process again to get the latest version. You'll have to manually set up your previous settings.


Step 3
Additionally, it's recommended to scan your computer for malware and remove them.

Software update download troubles
Users sometimes experience difficulties downloading program updates, resulting in an inability to run the poker client. PokerStars update error usually occurs due to insufficient network transfer speed. Note that update packages can be large, often exceeding a few hundred megabytes. So if your internet connection is slow or there are connectivity interruptions, the process may take longer or provide errors. This issue is frequently observed when players use a USB modem supplied by a mobile network operator (particularly in weak signal coverage areas). Improving your connection speed can help resolve the problem.
PokerStars Not Working: Access Denied
The official PokerStars website and apps might be subject to blocking in certain jurisdictions. If you have a stable Internet connection but still receive an error message like "Unable to access website", it is likely due to this restriction. We suggest checking for any recent changes in local regulations regarding online poker, your ISP may have enforced blocking measures. Or, the poker operator has ceased its services in the country where you currently reside, so you're no longer able to play in the room.
Temporary or permanent account suspension
Some of you might find your PokerStars account frozen when you try to log in. Well, it's pretty common to experience that. User accounts normally get blocked due to the poker room's rules violations or suspicions of such activities. This mainly involves multi-accounting, unfair play and money laundering.
You should check the email address provided at registration. It is entirely possible that you've already got an email explaining the grounds for your account suspension. If no emails have been received from the room's security team, then it is essential to contact their support specialists via the PokerStars live chat on the website or email [email protected]. If account blockage is temporary, it may be lifted upon reviewing certain paper copies or your game history. Revoking permanent account suspension is nearly impossible.
How to Fix "Low System Resources" Error
This failure has two reasons: an excessive number of running programs or insufficient desktop/laptop power. To resolve the problem, it is necessary to disable background apps, as they reduce your device's power and impede the proper functioning of Stars client. Also, to guarantee smooth software operation, your computer must fulfil the minimum requirements. You can refer to the table below to check this.
OS version
Windows 7, 8, 10
macOS 10.12
RAM
4 GB
1 GB
CPU
Core i3 or Athlon 64 X2
Core i3 or Apple M1
Free disk space

1 GB

Screen resolution

1024*768
If everything is OK but the error persists, address the customer support service. They might ask you to send them log files from the client software you are using. It is essential to do it promptly, as new information will be logged after 48 hours.

Step 1
Log in to the poker client and go to the "Help" section.


Step 2
Select the "Log Files" tab. In the provided window, describe your problem and send log files to the support experts.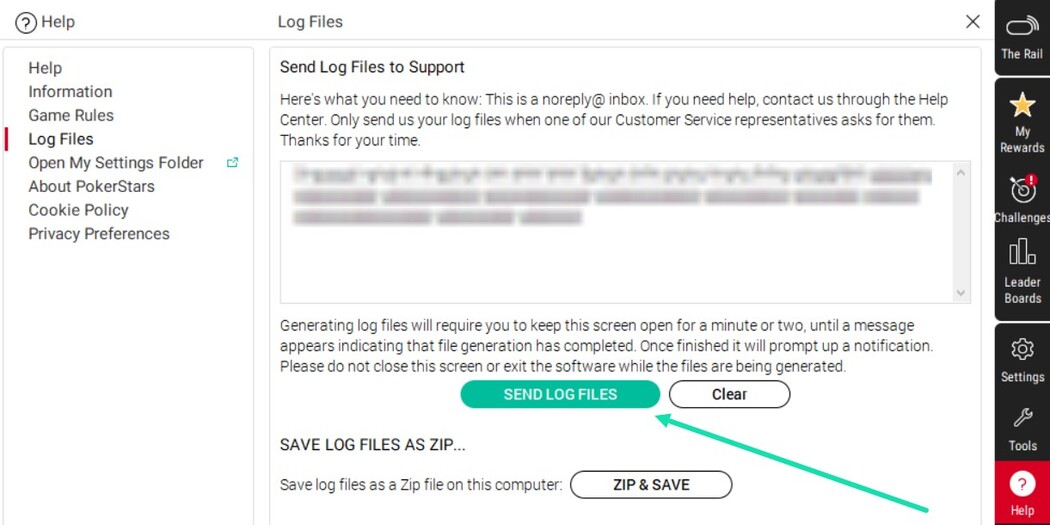 ​
You can expect to receive a response within a day, depending on the department's workload. Don't forget to include your Stars alias (nickname) in the message to make it easier for specialists to understand the situation.
Dealing with APPCRASH Problem PokerStars
In the past, there was a recurring problem when the "PokerStars Client Software (APPCRASH) has stopped working" error message popped up on the screen at the client startup or in the midst of a poker session. The software would freeze and the connection would drop abruptly.
The reason behind such incorrect client performance is a corruption of the User.ini or User file within the software settings. To address the issue, you should open the installation folder, locate the problematic file, and permanently delete it. We note that all your settings will be restored to their defaults, you'll need to set them up again manually.
How to find User/User.ini file
If you're able to log in to your Stars account via the client program, select the "Help" tab on the right panel and click "Open My Settings Folder".

​
Close the app as soon as the settings folder opens, delete User.ini or User file and restart PokerStars. In case you cannot launch the client program, stick to the instructions below:

Step 1
Press the Win+R combination on a keyboard (as a rule, you can find the "Windows" button in the bottom left corner between the "Ctrl" and "Alt" keys). The following popup window will open in front of you: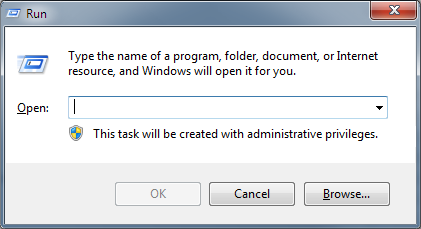 Step 2
In the search line, type or copy and paste the following text: %USERPROFILE%\AppData\Local and press "Enter".


Step 3
Find the folder of your poker client (it is normally called "PokerStars") and open it. Find User or User.ini file and open it in any text format, except Word (Notepad is the best one to use). Simply right-click on the file and pick "Open with..." – "Notepad".


Step 4
Paste the following text at the end of the file (just after the last line):
[Debug]
WriteCallStack=1
WriteMiniDump=1

Step 5
Save the file by pressing CTRL+S to keep it in its original location. Restart the poker client.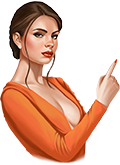 Important note ❗️❗️❗️
It is essential for the PokerStars program to be closed while doing these actions with User file.

Final Thoughts
PokerStars software is considered one of the most stable out there. Common problems can be resolved using the FAQ section, while more complex errors are handled by customer service. The key is to articulate your request effectively so that the support experts can address it as quickly as possible.
We've only touched upon a few reasons why Stars players may experience software issues. In reality, there can be more problematic situations (as many users, as many potential problems 😄). Fortunately, the poker operator strives to minimize difficulties related to account access as well as the client software download, installation, and launch.

PokerStars
100% First Deposit Bonus
Make your first-ever real money deposit using the bonus code 'STARS600', and we will give you a 100% bonus up to $600. To claim the full value of the bonus, you can make up to three qualifying deposits in 60 days.
Alternatively, deposit using code 'THIRTY' and claim $30 of free play.
How the 100% First Deposit Bonus works
Once you've made your deposit, you need to earn redemption points by playing real money games. Unless stated otherwise, you will earn 5 redemption points for every USD $1 you pay in rake or tournament fees (6.5 points per £1, 4 points per CAD $1, or 5.5 points per EUR €1).
Every time you reach 180 redemption points we'll credit your Stars Account with $10 cash. You have four months after each qualifying deposit to earn all the redemption points needed to release your bonus.
You may only take advantage of one of our first deposit offers, but may be eligible for further deposit bonuses open to existing players. You can view any bonuses you have, alongside information on expiry dates, redemption point requirements and more, under the 'My Stars' menu.
Please note that redemption points will not be earned at pot-limit or no-limit tables with blinds of $5/$10 or higher, 8-game tables with stakes of $20/$40 or higher, or other limit games with stakes of $20/$40 or higher.

B

Not available for players from your country
FAQ
💁‍♂️ Why can I not connect to PokerStars?
There may be several reasons. Ensure that you are connected to the Internet, as a fast connection is essential (minimum 60 kbps). Stars conduct scheduled maintenance on a regular basis: players normally receive advance notices via email or a pop-up message in the client's lobby. Take a moment to check your inbox, as you might have inadvertently missed the notification.

⌨️ Why can't I load into PokerStars?
Your firewall/antivirus software might be blocking the poker client, therefore adjust the settings of these programs as described in our article. Additionally, ensure that the Stars client you are using is of the latest version, as outdated software may have compatibility issues. Temporarily close unnecessary third-party apps, as they may conflict with the program. Be sure to double-check that the data you are entering – username and password – to log in to your Stars account is accurate.

⛔️ Why is my PokerStars account restricted?
There are numerous reasons why your Stars account may be frozen. And here are some of the most frequent causes:
incomplete account verification, providing a partial list of documents;
creating multiple accounts:
associating with suspicious profiles;
engaging in prohibited activities, such as chip dumping and bot use;
utilizing restricted software.
🎯 How do I clear my PokerStars cache?
Close the client program prior to deleting the discussed files – this cannot be done if the software is active. Now, do as is written below:
Press "Windows key + R" to access the "Run" command window.
Type in: %temp%.
Delete the following folders: XCW (it corresponds to the app cache) and PokerStarsBrCache (it represents the lobby cache).
Finally, restart your desktop/laptop to finish the process.
You gave this material a grade 5 from 5: