Lex Not Live 2021 Mini Series by Lex Veldhuis on PokerStars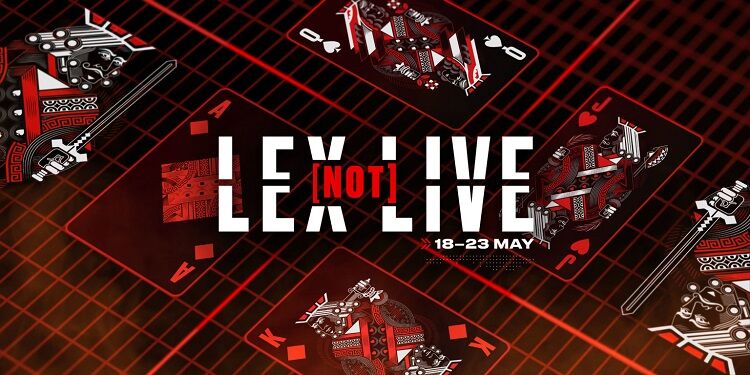 If you actively follow the streams of the popular Dutch poker player and PokerStars Ambassador Lex Veldhuis, you have probably already heard about the upcoming Lex Not Live 2021 mini-series.

This series, which the Dutch poker player will hold together with Stars, starts on May 18 and will last until May 23, 2021. Lex Not Live 2021 will host 17 tournaments with a total guarantee of $508 000.
The events will be held in a variety of poker disciplines: NL Hold'em, Pot Limit Omaha (including 6 Card), 6+ Hold'em and PokerStars Fusion.

Read also: PokerStars reduced Women's Sunday buy-in from $55 to $22
Among the extensive list of announced tournaments, it is worth highlighting the $55 High roller tournament with a $40 000 guarantee and the Main Event worth $33 with a $200 000 guarantee.

You can get to the Main Event cheaper through a grid of satellites that start with tournaments of $1. In addition, Zoom poker tournaments and progressive knockout events will be available to players. The series will also feature one Win The Button and one All-in Shootout tournament.

Full schedule of Lex Not Live 2021 series on PokerStars:
| Date and time (CET) | Tournament | Buy-in | GTD |
| --- | --- | --- | --- |
| 18 May at 11:00 | Pot Limit Omaha – Lex Veldhuis Open | 33$ | 12 000$ |
| 18 May at 12:30 | No Limit Hold'em – PKO | 22$ | 30 000$ |
| 18 May at 14:00 | No Limit Short Deck Hold'em | 11$ | 6 000$ |
| 19 May at 11:00 | NLHE/PLO – PKO | 22$ | 15 000$ |
| 19 May at 12:30 | No Limit Hold'em – High Roller | 55$ | 40 000$ |
| 19 May at 14:00 | Pot Limit 6-Card Omaha | 11$ | 3 000$ |
| 20 May at 11:00 | No Limit Hold'em – Total KO Heads-Up Zoom | 22$ | 18 000$ |
| 20 May at 14:00 | No Limit Hold'em – PKO Zoom | 22$ | 12 000$ |
| 22 May at 11:00 | No Limit Hold'em – Win the Button | 11$ | 10 000$ |
| 22 May at 12:30 | No Limit Hold'em – Deepstack | 22$ | 30 000$ |
| 22 May at 13:30 | No Limit Hold'em – FU Flipout | 11$ | 12 000$ |
| 22 May at 15:00 | No Limit Hold'em – Fusion | 22$ | 8 000$ |
| 23 May at 12:30 | No Limit Hold'em | 22$ | 35 000$ |
| 23 May at 14:00 | NLHE/PLO – PKO | 22$ | 40 000$ |
| 23 May at 16:00 | No Limit Hold'em – Main Event | 33$ | 200 000$ |
| 23 May at 18:00 | No Limit Hold'em – Second Chance | 22$ | 25 000$ |
| 23 May at 20:00 | No Limit Hold'em – PKO | 11$ | 12 000$ |