Poker Buy In Meaning

​
Here in this article, we explain a buy-in meaning in the light of poker play. One needs chips to participate in any cash game or tournament, so players contribute a specific amount of money to get them, join the action and be able to place bets. The sum can be big or small and may or may not include a poker rake. This initial fixed payment is known as buy-in.
Let's now discuss the intricacies and differences between participation fees in MTTs and at cash tables, payment policies, the importance of chip counts, and rebuy rules.
Buy In Meaning Explained
This term refers to a fixed entry cost players must pay to register and participate in a tournament event; or the acquisition of chips that a person uses at the cash table.
How do buy-ins work for ring games?
Cash games have a fixed size of mandatory bets known simply as blinds, and a minimum starting amount you can bring to the table is determined based on their monetary value. The larger the stakes, the higher the buy in. There is a buy-in range, and people can join the table with a specific number of chips within that range (it typically varies from 40 to 100 blinds or more). The minimal amount for a particular online table is indicated right in poker clients' lobbies.
In this case, you can convert the money paid back. For example, if an individual bought 10,000 chips, lost 2,000 and decided to leave the game, then 8,000 chips in cash equivalent will be returned to their account (and the same works for winnings). They can later use these funds for new games, withdraw them, etc. Poker operators charge rake from each hand rather than from your buy in.
How do buy-ins work for tourneys?
In tournament competitions where guarantees are formed through players' mandatory contributions, buy-in serves as an entry ticket and falls into two parts:
a certain amount that goes into the prize pool;
a poker room's commission (usually capped at 10%).
For instance, a tourney costs 100 dollars (sometimes indicated as $90+$10). We know that rake here is 10 per cent, so $90 goes for the warranty and $10 is taken by the house.
Each participant receives an equal number of chips as their starting stack, usually measured in big blinds (BB). That is, the entry fee doesn't affect your stack size, which ensures fair competition. There is no option of getting the buy-in back – a person either cashes in or loses all the funds paid. Some tournaments allow players to rebuy chips, while others – called freezeouts – prohibit re-entry.
As a rule, participation fees amount from 10 cents to $10,000 (for example, the WSOP Main Event). The higher the entry cost, the larger the guarantee.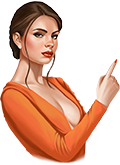 By the way
There are events without a buy-in called freerolls, where participants receive a certain stack and seat for free. One can win real money, tickets, or bonus points in such competitions.

Overlay and its advantages for players
It happens that an event doesn't meet the expected number of registrations. When total buy-ins fail to cover the guarantee a room has set on the prize pool, an "overlay" occurs. Gamblers benefit from such situations: the number of prize places remains unchanged, but rewards become more solid. Platforms add the needed money, and all those who finish in the money (ITM) share the initially claimed warranty among themselves.
Overlays occur in live tournaments as well. So if you have mastered your poker face and are ready to test your hand offline, and there's an overlay, – it's an excellent opportunity to boost your bankroll.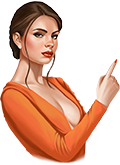 Know the difference!
Buy-in and bankroll are two distinct concepts in poker. The first term refers to the cost of one stack/entry ticket purchase, while the second represents all money a gambler can spend on playing.

Choosing MTTs Based on Entry Fee
If you want to participate in a tournament, consider its cost first. Use the following tips to select the most suitable event:
How many players do you want to see in the tourney?? Big buy-ins reduce the number of participants. If you are eager to play in a tournament for 1 000 people, then it's better to choose a smaller price.
Define the amount you are willing to spend for the game.
If there is free food and other perks, add another 10% to the participation cost (for tips).
Most online poker sites provide a filter for sorting events by the entry fee. By adjusting the selection, you can display all available tourneys in ascending or descending order of cost. In the first case, freerolls and events that require a special ticket (invitation) will be at the top of the list.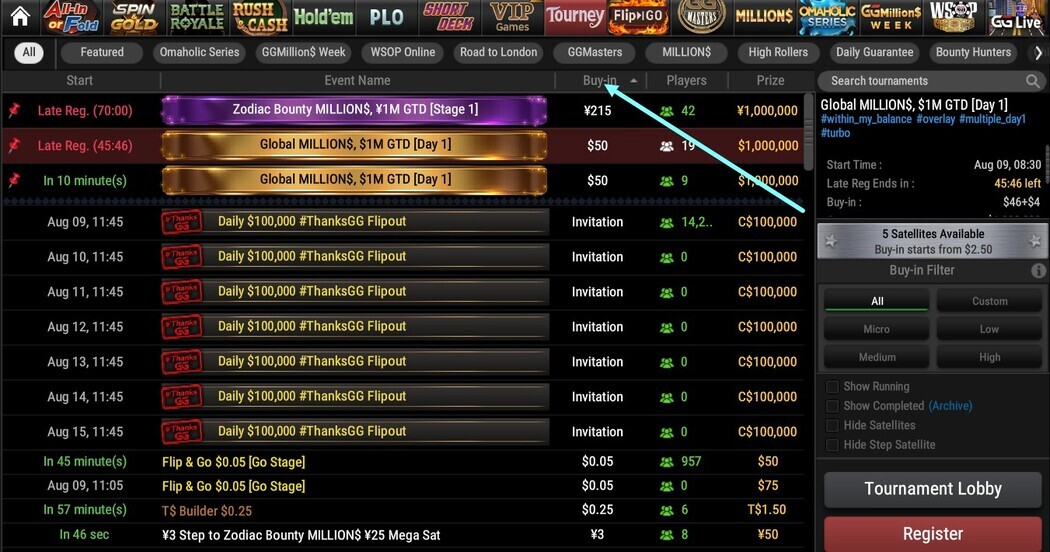 ​
Quite often, players prefer cheap tournaments to expensive ones. This choice may evidence the following:
Limited bankroll and unwillingness to risk money.
Tight playing style. This option is advantageous if you are ready to bluff against such individuals and steal blinds from them through aggressive play.
Playing at a minimal cost, your main task is to minimize losses. However, a higher participation fee allows you to make more money in the long run – despite overall failures and such a classic pitfall as a poker bad beat – and increase your profits.
Downsides of low buy-ins
As it turns out, there are higher chances of losing more finances in low-price events. The reason is that losing small amounts can be misleading.
Let's assume a gambler's bankroll is $50, and they enter a $4 tournament. They fail and go on tilt in poker. You get enraged and pay another $4 for the game, and after a few hands, someone beats you again. You repeat again and again. Before they know it, they've spent $38 on participation fees.
It's not about the player tilting; it's the misconception that $4 isn't a significant sum. However, what happens when they end up rebuying four or five times?
To maximize profits and avoid being caught in such situations, it's advisable to play with the highest buy-in that your bankroll comfortably allows. This approach will help protect your funds and lead to better overall results.
Additional Payments in Tourneys
In some tournaments, players can re-enter and add more chips during the game.
| Format | Explanation |
| --- | --- |
| re-buy | A person can buy a starting stack if they've lost all their chips. This option is usually available during the first hour of the event's start. |
| add-on | Players can add more chips to their stack. It becomes available after the rebuy period ends, often during a break, and lasts just a few minutes. Sometimes, the cost of chips is lower than the initial entry price. |
| freezeout | Competitions where no rebuys or re-entry are allowed. |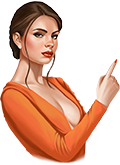 Valuable tip from David Sklansky
Purchase additional chips when your bankroll is below average compared to the other players' bankrolls in the tourney.

How to Protect Your Buy-in
In poker rooms of the GG Network, there is a unique feature called "Bubble Protection." This option ensures that if an individual gets eliminated at the bubble (the last position before reaching the ITM zone), they will return the funds paid for participation. To qualify for Bubble Protection, players should opt in during early registration and make it to the specified bubble zone, which varies based on the number of participants in the tournament. In order to check if BP is available for a specific event, open its lobby.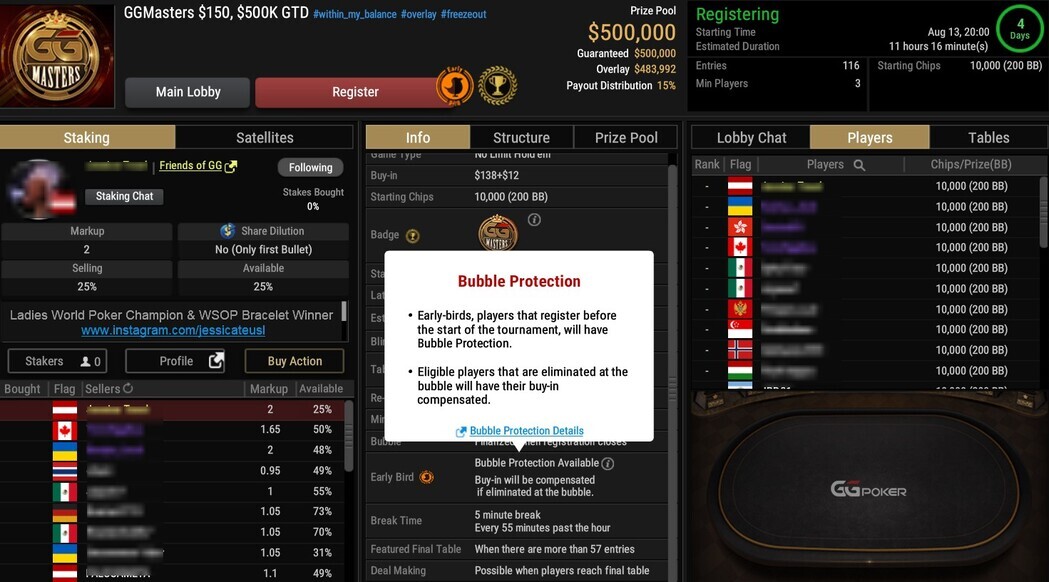 ​
More great choices for players

888poker
The following are the terms and conditions of the "£20 Bonus Package Promotion" (the "Promotion") for www.888poker.com (the "Site"). The Promotion is organized by 888 UK Limited.

This Promotion is an ongoing Promotion, currently without an end date, we will provide reasonable notice of when the Promotion is to come to an end (the "Promotion Period").
888poker may cancel, modify or suspend the promotion, and any of the bonuses or benefits offered hereunder, where required for security reasons, to comply with applicable law or regulation, due to abuse or otherwise where the promotion is not capable of being conducted as specified as a result of exceptional circumstances. Other than where necessary to prevent fraud or other similar unlawful behavior, any such modification, suspension or cancellation will not apply to you if you have already opted into the promotion, made a deposit in expectation of receipt of a bonus or other benefits offered, and/or commenced play in relation to the promotion, bonus or special offer prior to the date of the communication of the modification, suspension or cancellation.
No-one under the age of 18 may participate in the Promotion and the Promotion is only available to eligible members located in the UK.
You may be asked at any stage to provide us with a proof of age and/or identity.
You may only enter this Promotion once.
For security and verification purposes, we reserve the right to limit participation in this Promotion to: (i) one per household; (ii) one per computer terminal; or (iii) one per mobile device.
During their engagement period and for a period of 24 months thereafter, none of our officers, directors, employees, consultants or agents or any other company within our group of companies or our suppliers, vendors or white label partners are permitted to participate in the Promotion, nor is any supplier or vendor. This restriction also applies to relatives of such persons and for this purpose 'relative' means any of a spouse, partner, parent, child or sibling.
If you have a pending message on the Site's cashier regarding your recent gaming activity, we reserve the right to revoke your eligibility to participate and/or continue to participate in this promotion. In such event, any bonus and/or other benefit which you have received and/or are eligible to receive under this promotion, shall be forfeited by you.
The Promotion is a new registration offer with the Site and completely replaces any similar registration offer with the Site.
All bonuses and promotional offers, and any winnings generated through the wagering of either of the aforesaid, will be cancelled at withdrawal if any of the applicable conditions have not been met in full.
You hereby agree to these terms and conditions which govern the Promotion, along with the "User Agreement" which includes but is not limited to the "Bonus Policy".
Withdrawing funds your deposit balance (otherwise known as "Transaction Balance" in our Withdrawal Policy) is available for withdrawal at any time. General withdrawal terms apply, for further info see our Withdrawal Policy.
In order to meet the applicable wagering requirement, no real money shall be deemed to contribute (in full or in part) to the wagering requirement, unless otherwise specified by us.
Available funds will always be used before Restricted Funds (to include Money transferred) and the balance of both will be displayed in your My Account
Promotion

You may only participate in the Promotion, if you have not previously registered with the Site. If you benefit from this Promotion you will not be eligible to benefit from any other first deposit bonus or first deposit offer with the Site. If you have benefited from another first deposit offer with the Site you are not eligible to benefit from this Promotion.
You may not combine this registration offer with any other type of registration offer provided by the Site.
In order to be eligible and receive the Tournament Tickets (as defined below) granted under the Promotion, during the Promotion Period: (i) you must either download the 888poker client on PC or mobile application or click 'Instant Play' on the English non-download version of the Site; (ii) open a new user account with the Site; and (iii) verify his/her e-mail address by clicking on a link within the e-mail body or by SMS to the phone number entered within 14 days of the Site sending the email to you, otherwise the bonus offer will expire and you shall forfeit the bonus offer.".
Under the terms of this Promotion, eligible players will be entitled to receive £20 worth bonus (granted in USD at equivalent value of USD 25 in accordance with the Exchange Rate as defined in the User Agreement referenced above) that will be given as Tournament Tickets, according to the following allocation: 50 tickets of $0.1buy-in and 20 tickets of $1 buy-in.
Once claimed, Tournament Tickets will be granted in batches as follows:
First batch worth $5 (10 tickets of $0.1buy-in and 4 tickets of $1buy in) will be granted following your fulfilment of point 3 above.
Second batch worth $10 (20 tickets of $0.1buy-in and 8 tickets of $1buy in) will be granted 3 days after the bonus was claimed.
Third batch worth $10 (20 tickets of $0.1buy-in and 8 tickets of $1buy in) will be granted 7 days after the bonus was claimed.
If you don't use the Tournament Tickets granted under the Promotion within 24 hours of being credited to your account, such Tournament Tickets shall expire and you shall forfeit each of such Tournament Tickets.
Tournament Tickets
A Tournament Ticket possesses a fixed value and may only be used in tournaments that have a buy-in equal to that of the value of the Tournament Ticket. For the avoidance of doubt, Tournament Tickets may not be used as a buy-in for a tournament where the buy-in is less than the value of a Tournament Ticket.
A Tournament Ticket can't be used by a player to re-buy chips or to add chips to his/her stack during a tournament.
Tournament Tickets may not be: (i) exchanged or converted into cash; (ii) joined together to create a higher value ticket; or (iii) transferred by a player to another player.
For further terms and conditions in relation to the use of Tournament Tickets, please see our Bonus Policy.

A

Available for players from your country

PokerStars
100% First Deposit Bonus
Make your first-ever real money deposit using the bonus code 'STARS600', and we will give you a 100% bonus up to $600. To claim the full value of the bonus, you can make up to three qualifying deposits in 60 days.
Alternatively, deposit using code 'THIRTY' and claim $30 of free play.
How the 100% First Deposit Bonus works
Once you've made your deposit, you need to earn redemption points by playing real money games. Unless stated otherwise, you will earn 5 redemption points for every USD $1 you pay in rake or tournament fees (6.5 points per £1, 4 points per CAD $1, or 5.5 points per EUR €1).
Every time you reach 180 redemption points we'll credit your Stars Account with $10 cash. You have four months after each qualifying deposit to earn all the redemption points needed to release your bonus.
You may only take advantage of one of our first deposit offers, but may be eligible for further deposit bonuses open to existing players. You can view any bonuses you have, alongside information on expiry dates, redemption point requirements and more, under the 'My Stars' menu.
Please note that redemption points will not be earned at pot-limit or no-limit tables with blinds of $5/$10 or higher, 8-game tables with stakes of $20/$40 or higher, or other limit games with stakes of $20/$40 or higher.

B

Not available for players from your country

Unibet Poker
18+. T&Cs apply. New Customers Only. £20 extra = one cash game ticket of €8 and 4 x UK Tour tournament tickets of €4. £500 Playthrough bonus = €600. Both bonuses are activated upon first deposit from the poker client. Tickets expire after 35 days and the playthrough bonus after 60. £1 GBP = €1.1875. Selected games only. BeGambleaware.org.
B

Not available for players from your country
Exclusive offer
£500 Play Through bonus + £20 extra on deposit
FAQ
💡 How do you buy-in in poker?
Once you've decided on the tournament you want to play, there are a few simple steps to take to participate in it:
Register in the online room and/or sign in.
Top up your account for the required amount in the "Cashier" section.
Find the desired event in the tournament lobby and click the "Register" button.
Confirm the buy-in payment and wait for the event to start.
🎯 When can you buy-in in poker?
You pay the cost of participation directly when you register for a tournament or when joining a cash table. Funds are debited from your gaming account immediately.

💵 How much is a buy-in in poker?
In ring games, it depends on the stakes one plays (approximate range of $0.80 - $1,000+). In tourneys, it can vary from 10 cents to several thousand dollars.

📌 What does max buy-in mean in poker?
The maximum buy-in is typical for no-limit and pot-limit games and usually amounts to 100 big blinds. You won't be able to bring more than the specified limit to the table. Accurate information about the conditions of the game is provided when taking a seat at the table.

👀 Can you buy-in again in poker?
Yes, in some tournaments, a person who loses all their chips is allowed to continue participating after they make a rebuy. This can be done once, twice, or more times, depending on the event's rules. For ring games, you can also join the table again by launching it or topping up your account balance (if funds are insufficient).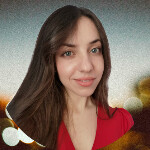 I've been working in the Cardmates team since 2018. Started playing poker the same way most people usually do – socially, with friends and fellow students. I adored those exciting poker nights but never thought my life would be connected with this game, even tangentially.