Mystery Bounty at GGPoker: new tournaments with huge random bounties

As part of the WSOP Circuit series, GG Network hosted the Mystery Bounty​ tournament, the main feature of which was random rewards for knocking out opponents.

The size of the bounty was determined by chance, and thanks to this, the Swedish poker player Niklas Astedt earned more than the tournament champion. Niklas was lucky to get the biggest bounty in the history of online poker: $340 000.
The players liked the idea of this tournament very much, and the event's guarantee was successfully broken. Therefore, the GG Network team decided to add this event to the regular tournament grid.
Mystery Bounty on GGPoker
The final phase of the Mystery Bounty tournament takes place on Saturdays at 20:30. The tournament guarantee is $1 000 000, but the buy-in is quite affordable: $210.

The maximum possible amount to receive Mystery Bounty is $100 000. The event is divided into two phases: starting and final.

Starting phase
Stage 1 takes place every day. All players who reach the 18th level of the blinds go to the final phase, in which you can get the Mystery Bounty.
Final phase
The Final Stage kicks off every Saturday at 20:30 UTC. After the start of the final phase, players will be able to see the number of rewards available and the largest bounty that can be received. You will be able to get Mystery Bounty from every knocked out player..
Tournament satellites
There are two types of Mystery Bounty satellites in the GGPoker lobby: $15 and $25. In the first case, 2 tickets to the key event are drawn, and 5 tickets in the second variant. You can find them by writing in the search phrase Mystery: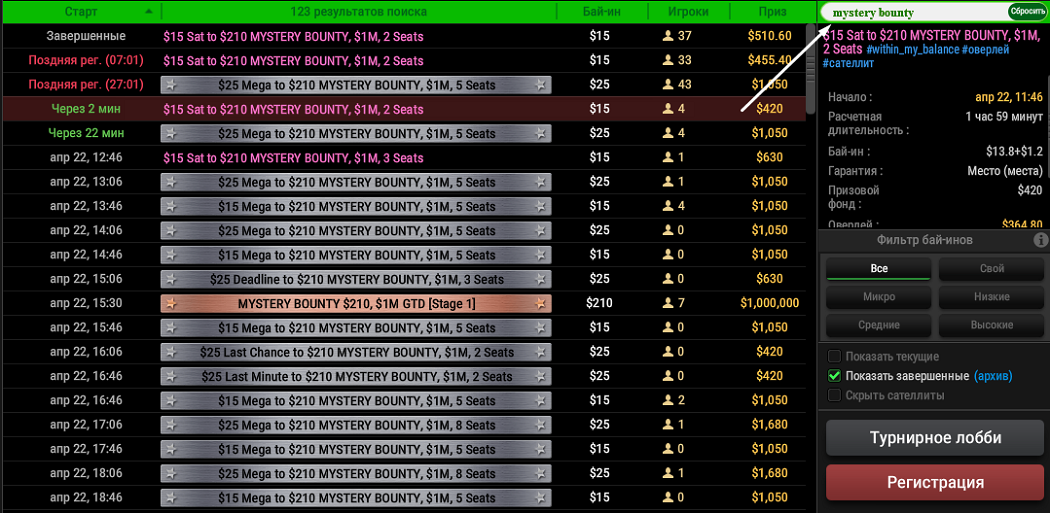 Don't miss the final of the first Mystery Bounty Tournament, which will take place on April 23 at 20:30 UTC.
In the future, the final stage will be held every Saturday, and you can qualify for it every day. Good luck to everyone!