Negreanu offered strange conditions for participation in Galfond Сhallenge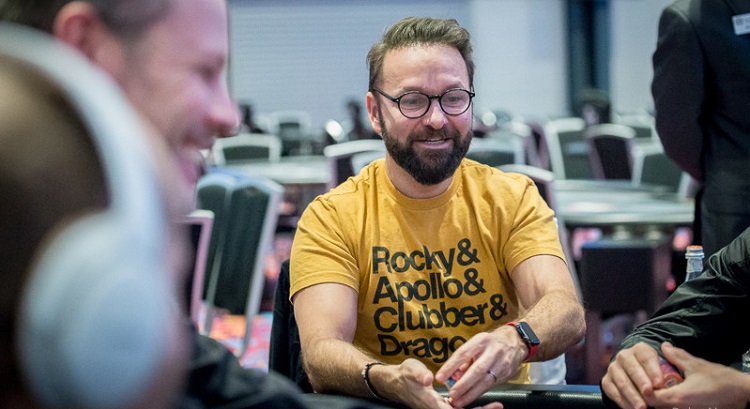 ​
In recent years, Daniel Negreanu has been playing online poker less often than at the height of his career. Nevertheless, Daniel's poker skills remain high, and he can fight anyone, for example, Phil Galfond, who is holding his heads-up challenge.
You have to admit that it would be interesting to watch the heads-up battles between Galfond and Negreanu, even even though Daniel is not such an expert in the PLO discipline as Phil is. Poker fans had a chance to see this combating, but Negreanu offered strange conditions for participation.
It all started when Galfond (being perplexed) asked a question on Twitter whether Negreanu takes part in his challenge: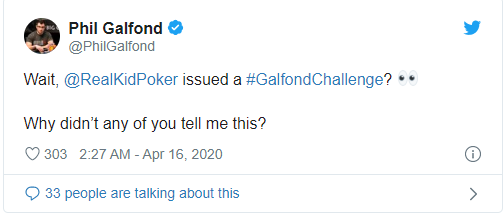 ​
Strange terms of the prop bet
Instead of playing a high-stakes match against Galfond, as other participants of the challenge do, Negreanu came up with a strange idea.
Read also: Phil Galfond won the first Galfond Challenge
Daniel planned to play 10 000 hands vs Phil at a $100 / $200 limit, but Negreanu would be forbidden to raise on the preflop. The player also requested an initial handicap of $500 000.
In the Galfond vs. VeniVidi combating, we have witnessed Phil won back $900 000, meaning that everything is possible at such limits. But, how fair the betting conditions are if one can bet only after the flop?
Negreanu's response
Negreanu answered Galfond's question on Twitter. Daniel wrote that there had been a player whom he wanted to finance for participation in the challenge, but that guy refused his offer.
Negreanu also offered the terms, which we mentioned earlier in this article: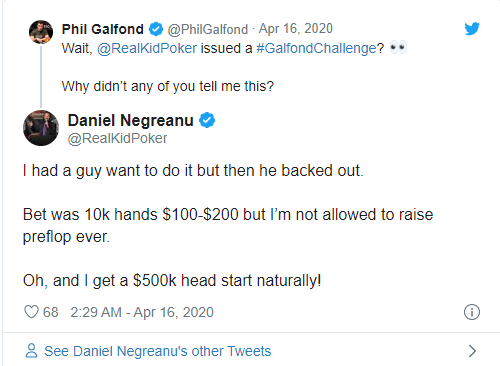 A few people wrote in the comments that Negreanu was simply trying not to disappear from the news feed while live poker is not available.
This confrontation can generate great interest, although Galfond has a huge advantage in the PLO.