PartyCaption review
PartyCaption is the first program from the series Caption that was developed in 2012. It will give you more opportunities during the play at PartyPoker where you can use it quite legally.
Besides PartyPoker, this soft is operating in some other poker-rooms; the information about them is available at the official PartyCaption site. But the situation can be changed in any moment, that's why we advise you to clear it with the support whether it is permitted to use this soft before its buying and running during the game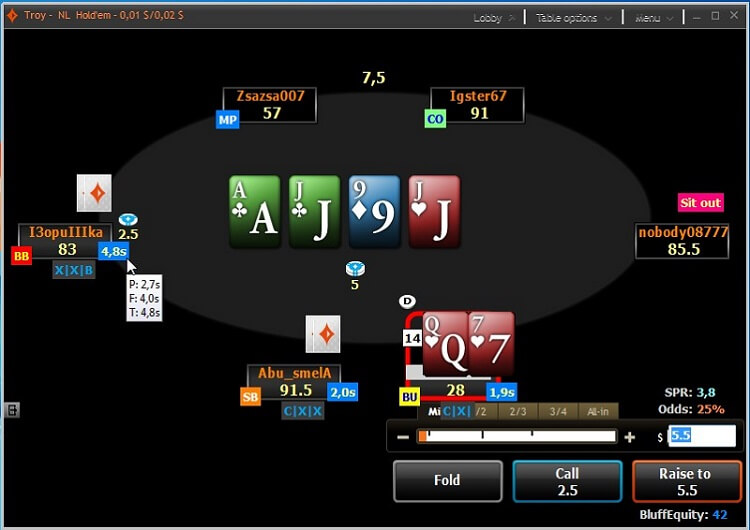 The list of the functions:
PartyCaption fonts' settings.
The indicators of stacks/bets in the blinds
Convenient creation of the colored notes.
Betting script.
Hotkeys that will make the play process more free and easy.
The possibility to remove all unnecessary things from the poker-room lobby and also from the tables.
Auto time-bank.
Automatic additional purchasing (auto-rebuy) in the cash-games.
Auto-buy-in and auto-rebuy for the cash-games.
The unique layouts for PartyPoker.
Opportunity to find out the opponent's country of residence (for those who are extra-inquisitive).
Opp buttons – it means four hot-keys for the different actions against the opponents.
Capture HUD where you can find the pot odds, bluff-equity, the displaying of the opponent's losing hands at the showdown, the tournament information (now you don't have to open the tournament lobby, because everything is within reach).
For the multitablers: the tables have the different highlighting depending on the characteristics.
Table Manager – it is the setting for arrangement of tables.
PartyCapture integration with Hand2Note.
In order to find out how to set up PartyCapture, it would be enough for you to acquaint with the detailed description at the page "888caption review", because the process is identical for both programs.
Soft price
You can buy the annual PartyCaption license at the developer's website. The soft price is $30 (per year) and it can help you to reach a new game level.
You can test the instrument free of charge during 1 month trial-period. And there is good news for the micro-limits players: they can use PartyCaption absolutely free of charge for the cash-games up to NL10 and for the tournaments with the buy-in not higher than $3 inclusive.
We propose you to download PartyCaption free of charge at the developer's official resource.