Phil Galfond held a mini challenge while VeniVidi took a break

​
Phil Galfond took a little break in his first poker match within the Galfond Challenge at the end of February, after he had a downstreak and lost over 900 000 euros. When the player returned to the battle, he managed to play a number of successful sessions and almost got his money back. Currently, VeniVidi is still ahead of Phil and has an advantage in the amount of €154 000. However, Galfond's opponent asked for 2 days off.
Facing an upstreak, Galfond decided not to miss the game sessions and held a mini-challenge.
Read also: Danish player won $1 000 000 jackpot in Spin&Go Flash at PokerStars
On March 31, Phil Galfond announced the first #MiniGalfondChallenge, and it might be not the last one.
Challenge conditions: 800 hands in PLO $200/$400 against AmSoGood at PokerStars. It's worth noting that the players didn't agree on any side bets.
Yesterday, Galfond reported on the results of the mini-challenge:
Wild #MiniGalfondChallenge session! I started off by winning $180k straight, but then @Lemay002 went on a $220k run of his own.

I won a couple pots at the end to finish +$15k and +all the glory 🙂

Hope people had fun sweating! https://t.co/Y5XulUPH99

— Phil Galfond (@PhilGalfond) March 31, 2020
Galfond seems to have a successful period now. As for the challenge against VeniVidi1993, they still need to play 5 637 hands out of 25 000 planned ones, and despite the fact that Phil is in the red by €154 288, he has every chance of winning the first Galfond Challenge.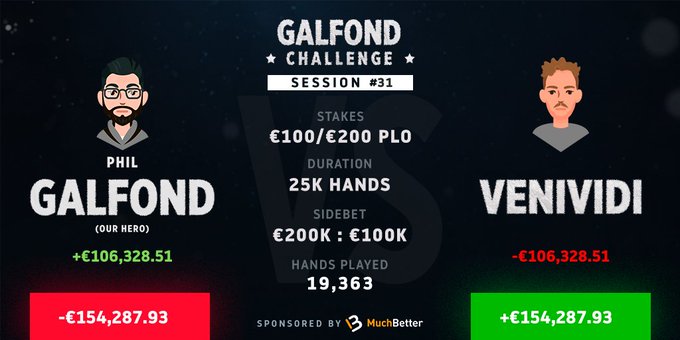 ​