Galfond Challenge: Phil is ahead of Chance by $117 000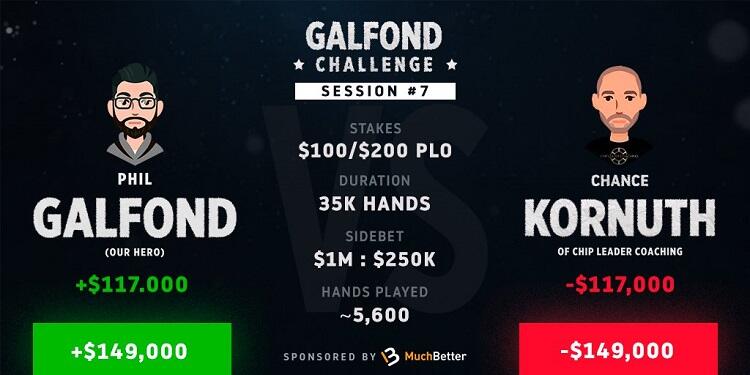 ​
Last night, another Phil Galfond vs. Chance Kornuth heads-up match ended in favor of the Run It Once Poker owner. It was the seventh poker session, and the guys played PLO $100 / $200 as before.
They have already played 5 600 hands out of the 35 000 planned ones. To date, the RIO Poker founder Phil Galfond leads the race and is far ahead of the two-time WSOP bracelet winner Chance Kornuth.
In spite of the fact that Kornuth has carefully examined and analyzed his opponent's play, he did not manage to gain the upper hand in the Challenge during the last session. Galfond also beat Kornuth in the previous matches, while Chance was only able to briefly narrow the gap in winnings.
According to the agreement, if Kornuth fails to become the champion of this race, then he will pay Galfond €250 000. However, if Chance manages to win the challenge, then Galfond will grant him as much as €1 000 000.
Read also: Bill Perkins challenged Hellmuth and Esfandiari to a poker duel
In any case, Chance Kornuth has still plenty of time to outplay Phil Galfond, but he should be cautious as Phil may use the time to his advantage.
Day 7: Phil Galfond vs. Chance Kornuth
Phil Galfond started to crush his opponent at the very beginning of the 7th session. Just 10 minutes after the start, they played a massive pot of $48 000: Galfond moved all-in for $20 000 on the river, and Kornuth called. As a result, Chance didn't improve on the river and his overpair lost to Phil's two pair hand.
There were a lot of interesting hands, most of which were taken down by the RIO Poker owner. We suggest that you watch the video that contains highlights of the seventh game session between Phil Galfond and Chance Kornuth:
​