Play chips at PokerStars: how to buy, get and sell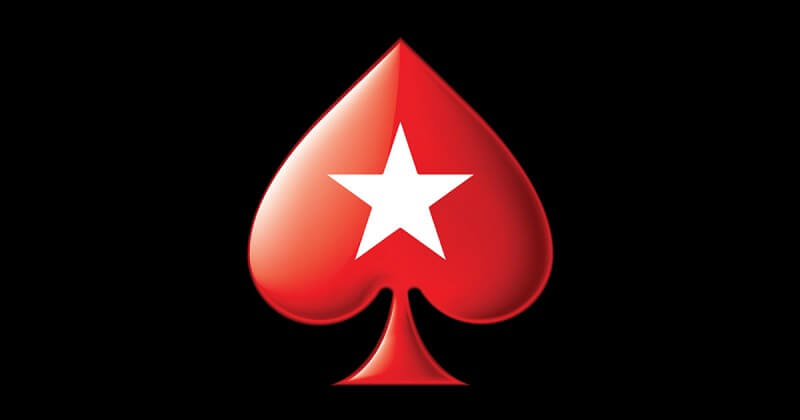 Play chips PokerStars is the internal money of the poker room, which you can use to participate in free games, where the same chips are played. Many people prefer to call these chips "virtual money" or "play many", because they have no financial value for the player and can't be used as a fee to play for real money (dollars, euros or pounds).
In the PokerStars client, a user can easily switch between the game for real or play money. The only action you need to implement is to click on the corresponding circle as it is shown in the picture below:

How to get play chips at PokerStars for free
Every new player that registers at PokerStars, becomes an owner of 1 000 play chips. Using them you can play all the types of poker that are represented in the room with no restrictions. If a balance of your play money gets less than 100, then you can renew it up to 1 000 not more than three times per hour.
How to replenish a number of play money for free:
1. Open «Cashier» of the poker room.
2. Click on «Play money» => «Collect»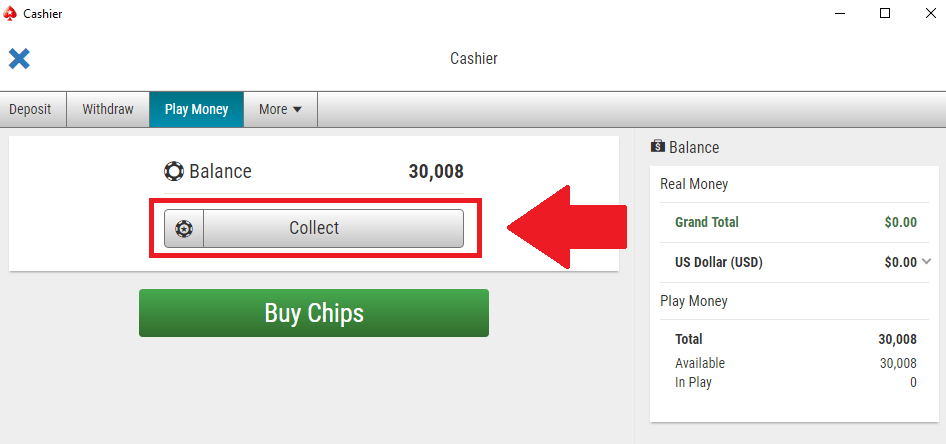 How to buy play chips at PokerStars
PokerStars daily hosts a lot of tournaments, where the buy-ins exceed 1 000 000 of play chips. To collect a comparable amount of play money, you need to spend a lot of time. However, it is much easier to walk through this way by acquiring play chips for money.
The purchase of chips occurs through the Cashier of the poker room:
1. First, you need to click on «Play money» => «Buy Chips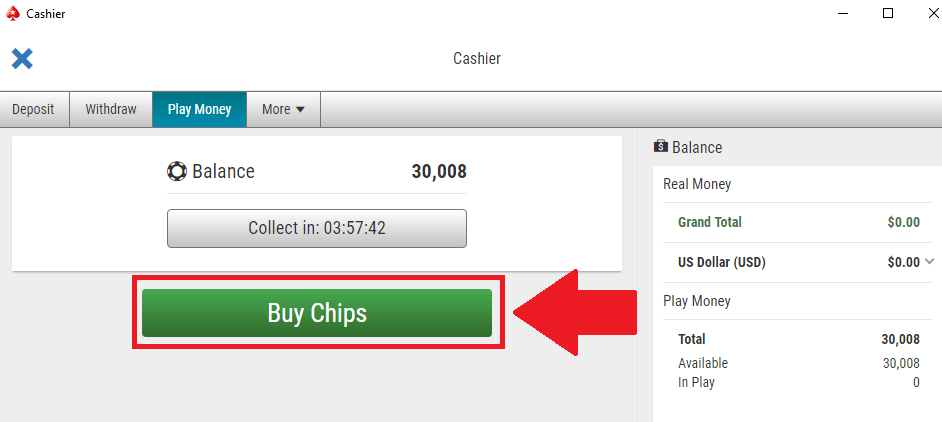 2. Select the needed quantity and press "Buy" again.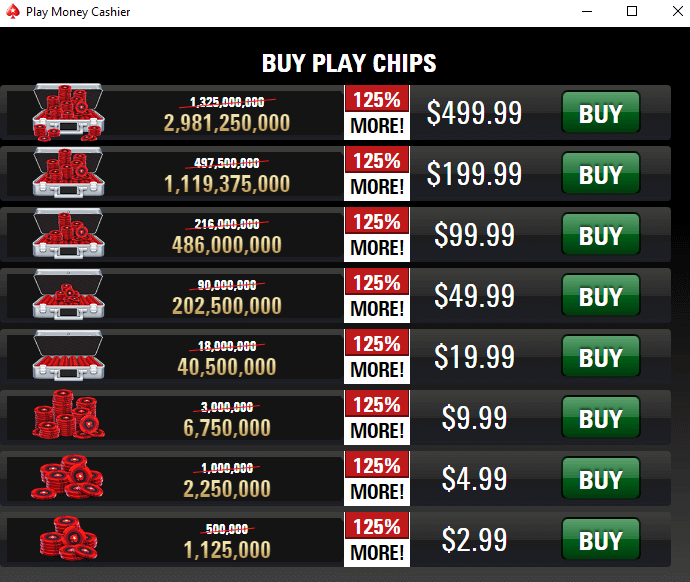 PokerStars will immediately credit the play chips to your balance right after you make a payment.
A note from the official website of the poker room: "You can buy play chips only on PokerStars. Buying play chips somewhere else is in violation of our terms of use".
Is it possible to sell play chips of PokerStars?
The PokerStars software does not have functionality that allows you to sell play chips to other players for money. Since there is no such functionality, then how you can transfer "play many" to another player? You can do it only at the cash table, by losing chips on purpose, which strictly violates the rules of the poker room and is called chipdumping. It is a type of poker fraud that is punishable by blocking your account.
On the Internet, you can find people who buy play chips PokerStars. The price is constantly different, and you will take all the risks exclusively on yourself. You will not be able to play on PokerStars if the security service blocks your account after selling the chips.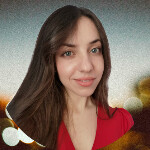 I've been working in the Cardmates team since 2018. Started playing poker the same way most people usually do – socially, with friends and fellow students. I adored those exciting poker nights but never thought my life would be connected with this game, even tangentially.