Harrington on Hold'em II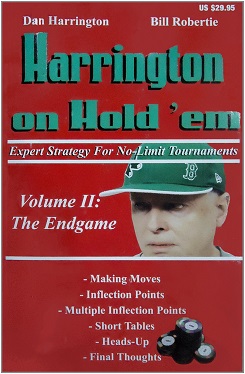 Harrington on Hold'em: Volume II: The Endgame
A year after the first volume was released, Harrington and Robertie published the second book of the «Harrington on Hold'em» series, although they could be called «Harrington on Tournament Poker».
While the first book teals about an early game stage of poker tournaments, Volume 2 is dedicated to the game at the final phase — to what happens on the way to victory in any event when the time is close to a final and a champion heads-up. Despite the fact that this book can be read separately, it is a continuation of the previous edition, and the numbering of chapters starts with the eighth one.
In the foreword, the author draws readers' attention to the fact that the game at the early and final stages of the tournament is very different. This book describes in detail the methods and techniques applicable at the late stage of the game, analyzes examples of various hands and discusses ideas which, according to Harrington, you will not find in other poker books. It will help to deal with the game at the final table and determine for yourself, when it is beneficial to take a deal and split prize money, and when it is better to fight to the end.
Read «Harrington on Hold'em: Volume II: The Endgame» by downloading it in PDF format on our website, or purchase the book on Amazon.
This is the second part of the three-volume book. You can download all three volumes of «Harrington on Hold'em» at Cardmates.
A bit about the authors:
A poker professional Dan Harrington and an author of books on backgammon and chess Bill Robertie have created a series of useful poker books which are valued in the poker community: 4 books on poker tournaments and 3 books on cash games. There are over $6 600 000, won in live tournaments, on Harrington's rank.