Heads-Up No-Limit Hold'em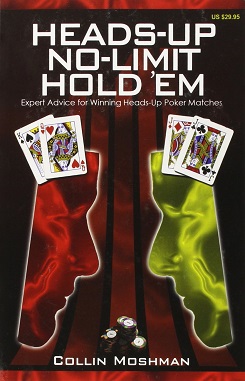 Heads-Up No-Limit Hold'em
Are you looking for a poker book for heads-up players? Do you want to improve your heads-up skills and understand how and why to make decisions in any given situation? Then «Heads-Up No-Limit Hold 'em», a training book of poker coach Collin Moshman, would be an excellent choice.
This book gives information about the basic principles of HU SnG, game against opponents of various styles, difference between SnG HU and heads-ups in cash; considers manipulations with the size of the pot and bets depending on the strength of the hands and types of opponent, and describes many other important topics that will help you to develop an effective game strategy adapting to each specific game. The material is full of live examples from different major tournaments.
In the final chapter of the book, the author told about a career of a HU professional player, necessary amount of bankroll, usage of online software, tilt control, etc.
Read Collin Moshman's «Heads-Up No-Limit Hold 'em» by downloading it in PDF format on our website, or purchase the book on Amazon.
Collin draws attention to the mathematical component of the game, often mentions percentages and strongly recommends readers to use poker calculator.
A bit about the author:
Collin Moshman is a professional SNG and SNG HU player who has a degree in math. He quit his job as soon as he realized he could earn money playing poker. That's what he is doing now - plays and trains other players. Collin has written many articles for poker resources, and he has also made some training VODs.