Internet Texas Hold'em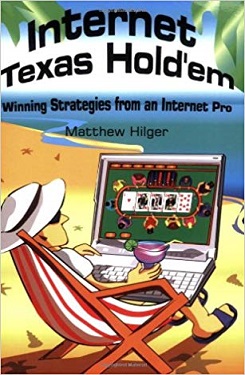 Internet Texas Hold'em: Winning Strategies from an Internet Pro
Matthew Hilger's book on Texas Hold'em on the Internet contains a lot of useful information for players of online poker rooms.
The author claims that his book is perfect for poker players of different levels. It will help beginners to get used to the virtual tables, and experienced players to raise the quality and effectiveness of their game. The book outlines both the basics and more advanced concepts of online poker. Matthew pays a lot of attention to mathematics and psychology of poker. He singled out individual chapters for probabilities, raises, bluffs, starting hands, each combination and street, while considering the issue from different angles. He also wrote about the types of players, game selection, bankroll management, etc.
Read Matthew Hilger's «Internet Texas Hold'em» by downloading it in PDF format on our website, or purchase the book on Amazon.
Hilger often compares online poker with live game and writes about the difference in approaches. In his book, the poker player tells how to maximize the benefits of playing in different positions with different players and in different situations. This information is targeted to develop winning strategies to play online poker.
After each chapter, Hilger suggests a kind of "practical work" with the help of which readers can check correctness of the learned material using examples of real hands.
A bit about the author:
American Matthew Hilger is a certificated financier, but he has left a promising office job to be an online poker player. Mat has been playing poker professionally since 2001; he started at a limit of $1 / $2, and at the end of the year he played at $30 / $60 tables. For the first year, by playing cash games and taking part in tournaments, Hilger earned more than $100 000.