Let There Be Range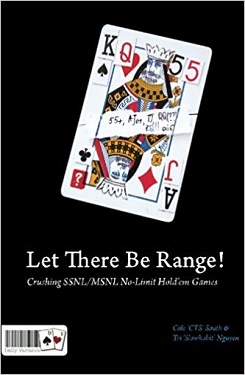 Let There Be Range
In a relatively small book called "Let There Be Order," Tri Nguyen and Cole South put a lot of useful information. The book should be considered as poker math literature, but at the same time it is not similar to other poker manuals.
The authors set themselves a goal to teach a reader to play as a superuser, as if he could see his opponent's cards. They focused on analyzing important variables that need to be taken into account when making decisions playing poker, and view them from different angles. It is about a range of hands, pot equity, fold equity, mathematic expectation. Most of the material is dedicated to discourses about hand ranges – that's where the name of the book comes from.
The book is written in an informal, light style, which makes reading a seemingly boring mathematical theory very entertaining. There are many examples, drawings and tables.
Read Nguyen and South's «Let There Be Range» by downloading the book in PDF format on our website, or purchase the book on Amazon.
Having carefully studied the material of the poker textbook and having used advice of experienced high-limit players, you will be able to increase your game potential and, as a result- to win more.
A bit about the author:
Tri "SlowHabit" Nguyen is not only a professional high-limit player, but also one of the best modern authors of books on poker. He has 5 poker books, two of which are dedicated Pot-Limit Omaha. All the books he wrote from 2008 to 2012, publishing one edition per year. "Let There Be Range" – is author's first book, which he wrote based on his own notes made while learning the game. A successful player Cole "CTS" South became Nguyen's co-author. In poker community the guy is known for his outstanding game on the Internet and performance in 5th season of the famous poker show Poker After Dark.