Сrushing online SnG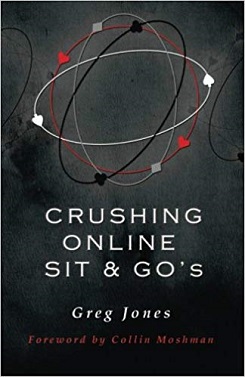 Сrushing online SnG
Greg Jones written «Сrushing online SnG» book being a novice coach. It is based on a collection of all strategic concepts selected by the author for students. Greg uses methods from the book in his trainings and, according to him, they help clients to become profitable players by the fifth session.
The book on SnG starts with the basics, and then the material is presented in the context of the game at low, middle and high blinds. Separate sections are devoted to the game against LAGs and TAGs in different situations.
Main value of this poker book is that Jones paid attention to many issues that were very poorly covered by other authors.
Read Greg Jones' «Сrushing online SnG» by purchasing the book on Amazon.
The book is mostly designed for beginners and medium players, but even advanced regulars can find some useful information in it.
A bit about the authors:
Greg Jones (also known as "Zerosum79") used to be a student of Collin Moshman (author of «Heads-Up No-Limit Hold'em», «Sit 'n Go Strategy», etc.), having won a training course on the forum. He showed unprecedented ability to train, and soon Collin suggested Greg to conduct several trainings himself. As a result, Jones became a poker coach and wrote the book - «Сrushing online SnG».