Super System: A Course in Power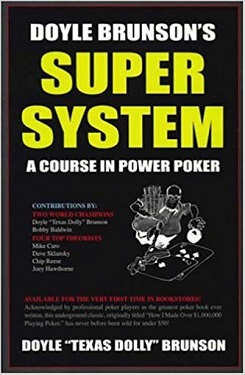 Super System: A Course in Power
Trends in the poker world are pretty fleeting, therefore videos and articles created a year ago may be no longer relevant… what to speak of a book, written around 40 years ago? But Doyle Brunson's «Super System» is one of those books that newbies should read.
The book outlines basics of poker, strategies and tricks, some of which will be always relevant, and it also represents the game features and life of poker players based on their own experience and experience of Doyle's comrades.
In addition to poker components, the book includes autobiographical story of the legendary Brunson. Due to this fact, it is easy to read.
«Super System» is one of the first books on poker. Among the people it is called «Poker Bible».
Initially, the book should have been called «How I Made Over $1 000 000 Playing Poker», but as a result, the title was changed. A second part of the book «Super System 2» was released in 2004.
Read Doyle Brunson's «Super System» by downloading the book in PDF or Doc format, or purchase the book on Amazon.
A note: in addition to Hold'em, the «Super System» describes game rules and features of other types of poker. If you are not interested in this topic, you can skip theoretical sections about the rules of 7-card stud, draw poker, etc.