The Grinder's Manual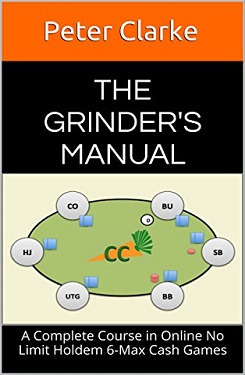 The Grinder's Manual: A Complete Course in Online No Limit Holdem 6-Max Cash Games
This is a complete course on the modern poker theory and strategy of cash game for short (6 max) tables. It covers basic notions in order for a newbie to read this book and not get lost. However, the information quickly moves into very deep concepts with advanced strategies. The most obvious example is the concept of hand ranges. It is simply necessary information a successful modern poker player should study, but this is one of the most difficult concepts for new players. Other books mention ranges, but then enable students to get off the hook, not forcing them to think about ranges in the examples of hands.
Peter Clarke presented a unique book. The hands in the examples sometimes have X-X instead of our cards, which means we must consider how this hand will be played in the range of possible hands. We are also never told what specific two cards our opponent has, as it doesn't matter when we are concerned about how we deal with his range. The experience of reading a book is very similar to the strategy of "full immersion" at a foreign language lesson when a professor doesn't allow students to speak any other language, except the one is being taught. And this technique works well, since a reader almost automatically starts to think about the ranges when analyzing a hand in the game.
If you are a break-even player or a profitable poker player who performs at the short tables of low limits but wants to start thinking in ranges and go to a higher limit - this book is for you!
Read Peter Clarke's poker book «The Grinder's Manual» by downloading it in PDF format on our website, or purchase the book on Amazon.