The Mental Game of Poker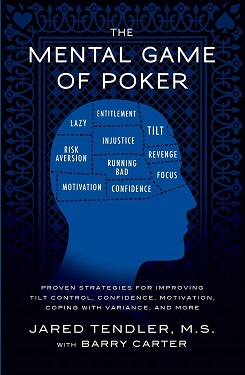 The Mental Game of Poker
Disciplines:
MTT, SNG, Cash, Spin&Go
In 2011, a poker library was updated with an innovative book on psychology - «The Mental Game of Poker» by Jared Tendler (two volumes). Professional players highly commended both books due to the utility of the material.
When it comes to psychology in poker, the first thing that comes to mind is problems with tilt, because it is actually a very important factor affecting the player's productivity. A bigger part of the first volume of «The Mental Game of Poker» is devoted to this issue.
The author began with the basics of poker psychology, analysis of emotions that affect the game, and then he proceeded directly to the tilt subject. He singled out a few kinds of tilt, and each type was described in a separate chapter.
Tender also considered the impact of fear on the game and shared the tips regarding development of self-motivation and self-confidence.
In the book, Jared not only expressed his own view on the problem as an experienced sports psychologist, but also outlined players' (the author's clients) opinion and presented their personal stories.
Read Jared Tendler's «The Mental Game of Poker» (volume 1) by downloading it in PDF format on our website, or purchase the book on Amazon.
This poker book on psychology has helped many players, and it is recommended to read not only to those who have mental problems, but to any poker player who wants to improve his game.
A bit about the authors:
Jared Tendler is considered to be the most famous poker psychologist. Previously, he worked with athletes (with golfers mostly), but over time, he began to focus on poker players. More than 250 professional players became his clients. Jared's videos and articles helped lots of people to improve their game and their attitude towards poker. Professional poker player and journalist Barry Carter is specified as a co-author of «The Mental Game of Poker» book, however, as he claims, his task was only to express his opinion on the issue from the part of a poker player.