The Mental Game of Poker 2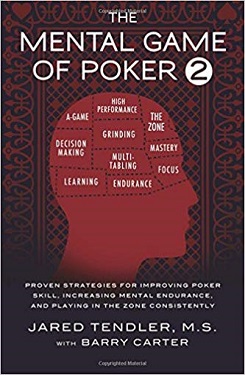 The Mental Game of Poker 2
Disciplines:
MTT, SNG, Cash, Spin&Go
«The Mental Game of Poker 2» describes psychological strategies and theories from the foundational book of Jared Tendler, which was the first to talk about the fight against tilt, and thereby, helped many players to eliminate mental leaks from their game.
While the first volume is devoted to the cope with tilt, the second volume is more multifaceted. The book offers proven strategies in order to play poker longer and at a big number of tables online; improve the decision-making process; learn faster; eliminate the erroneous C-game; increase focus and discipline.
Read Jared Tendler's «The Mental Game of Poker» (volume 2) by downloading it in PDF format on our website, or purchase the book on Amazon.
Both books on the mental side of poker will bring great benefit to any player, with the right approach and thoughtful reading. They will help to significantly improve the efficiency of the game and make it more convenient.
A bit about the authors:
Jared Tendler is a well-known poker psychologist who works as a psychology coach (or a so-called "mental coach") with many successful players. In addition, he helped thousands of poker players by means of special videos, articles and books written by him, as well as by communication on the forum. Barry Carter, a journalist and a poker player, became a co-author of the two volumes of «The Mental Game of Poker». However, Barry repeatedly noted that he simply expressed his opinion on the material presented by Jared, from the player's point of view.