The Poker Mindset: Essential Attitudes for Poker Success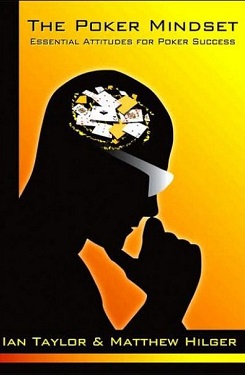 «The Poker Mindset: Essential Attitudes for Poker Success»
Disciplines:
MTT, SNG, Cash, Spin&Go
"The Poker Mindset" is a book about poker psychology that was written by two talented poker players, based on their personal experience and observation. The authors modestly call their book "the second in importance" and yielded precedency to the poker literature that teaches a correct technique of play. Its reading will be useful for players of the different levels, but before opening the book you should learn the basic rules of the game.
The players tell in their book how to overcome your own instincts, how to get inside the opponents' heads, cope with bad beats, downswings and subsequent tilt. Besides that, such important themes as bankroll management and life outside the poker table (or how to combine such work with reality) are considered in the book "The Poker Mindset". In the final chapter the authors try to figure out how poker can influence on the ordinary life of the player, and vice versa.
Read Ian Taylor's "The Poker Mindset" by purchasing the book on Amazon.
The book is quite voluminous as it covers many different useful themes for a poker player. Poker psychology is the basis for each of them.
Taylor and Hilger expressed the confidence that their book can help players to improve their poker productivity, but only if to approach to material's study with the utmost seriousness.
A little about the authors:
Ian Taylor is professional poker player who is known to many in the poker community thanks to his active posts on the forum. Jan is the author and co-author of more than 10 books, but most of them are not related to poker.
Matthew Hilger is also talented player and writer. He floated into the money at WSOP more than 10 times. He was able to earn most of the money at WSOP Main Event 2004 where he took the 33rd place out of 2 576 players and won 80 000$. He has three more poker books, two of which were written for the online players.