The Psychology of Poker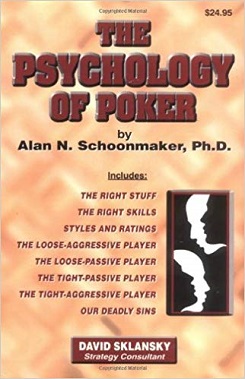 The Psychology of Poker
Disciplines:
MTT, SNG, Cash, Spin&Go
Many people don't pay proper attention to poker psychology, considering themselves quite stress-resistant and skillful. This can turn out to be a terrible result for them.
You can't consistently win and move up the limits, just doing the things that come naturally. Alan Schoonmaker tells how psychological factors affect your ability to play correctly and how they effect on your opponents.
Every player chooses a certain game strategy for himself: someone plays more aggressively, and somebody leads passive game mainly, some prefer to play tight, while others are playing loosely. Why does it happen? And, most importantly, what influences your selection of tactics - why do you feel comfortable playing in a certain style, but not in others? Alan's book will answer many of these questions and explain why you and your opponents play this way and not otherwise.
Schoonmaker tries to teach readers to make strategic adjustments in their game in such a way to improve the game results against different types of opponents, while getting the max benefit and enjoyment from the game.
Read Alan Schoonkmaker's «The Psychology of Poker» by purchasing the book on Amazon.
The book focuses on reading hands and tells, manipulations of bluff, choosing and playing hands, as well as many other topics connected with the poker psychology.
A bit about the author:
Alan Schoonmaker has a PhD in psychology. He conducted scientific researches and taught at several higher educational establishments. Alan has recorded three monographs and five books. He led a column in a poker magazine and wrote several books on poker psychology.