The Raiser's Edge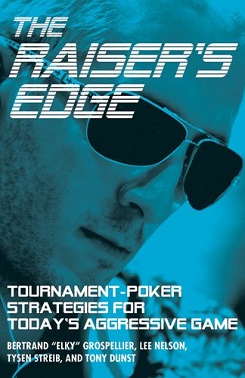 The Raiser's Edge
The book «The Raiser's Edge» is a joint work of such famous pros as Bertrand Grospellier, Lee Nelson, Tyson Streib and Tony Dunst. In this book, the experienced poker players described strategies for tournaments in the context of aggressive games.
At the start, they described key concepts of the modern tournament game, having paid particular attention to a loose-aggressive (LAG) style. Then the material is presented depending on a stage of the tournament, the situation at the table and type of opponents. For clarity, the poker players used examples of hands.
The authors analyzed the tournament game at the time of writing the book (2013), having taken into account modern techniques that have brought changes in the game, and revealed balanced strategies based on ranges.
The material in the book isn't targeted at beginners, it's intended for intermediate and advanced players both online and live tournaments. Most of the information is aimed at online players, but for offline fans, the poker players have added a bonus in the form of a separate application with poker tells.
Read «The Raiser's Edge» by downloading it in PDF format on our website, or purchase the book on Amazon.
All authors have contributed to the writing of every chapter, but each section has its own main author, who sometimes gives opinion on his own behalf.
A bit about the authors:
Frenchman Bertrand "ElkY" Grospellier, a successful tournament player and a member of Team Pro PokerStars, is the most famous poker player from the author's staff. Lee Nelson and Tyson Straib have already worked together to write "Kill Everyone", ElkY started translating it into French, and even then the poker players began to discuss the idea of a new book. The author also included Tony Dunst - the former representative of the PartyPoker team and a presenter of poker events.