Tournament Poker for Advanced Players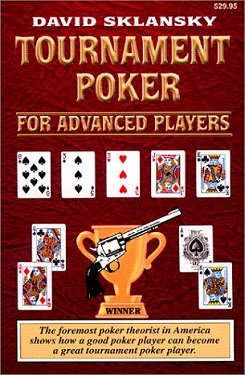 Tournament Poker for Advanced Players
David Sklansky was engaged in writing more than a dozen of poker books and «Tournament Poker» is one of his most popular works. As it is already mentioned in the title, the book is intended for advanced players. The author recommends beginners to familiarize with less complicated literature first.
Poker players who have played a couple of hundred of tournaments and want to become more effective players and move up the limits are targeted audience of the book. It means, that the book is for those people who play poker well, but aren't fully aware of the features of a tournament game (where and when to use certain tournament concepts).
Sklansky tries to convey that tournament poker is very different from a standard cash game. At first glance, they may seem to be identical, but in the correct strategy of a tournament game there are quite a lot of differences, which are often unknown to experienced cash players. Some players show great results in tournament poker. It is not just good luck - these players clearly understand how to properly adjust their game strategy and when to enter the game. If the same player constantly reaches the final tables, then this is not just a coincidence. This book tells about tournament strategies in which little number of players has reached a high level.
Read David Sklansky's «Tournament Poker for Advanced Players» by downloading it in PDF format on our website, or purchase the book on Amazon.
The author recommends players to read the book completely, and then to go back to those sections they need to focus on to study them carefully.
A bit about the author:
David Sklansky is an acknowledged poker expert and an author and a co-author of more than ten books that have helped more than one generation of poker players. The last few years, he advises casinos (including online casinos).