Poker earnings with a partner program
Do you like poker but you cannot earn money in a sustained way and cannot get the considerable sums from the game? If it is so, then this article is for you! In this article we are going to talk about the ways of earning money in poker without playing yourselves and only by means of attracting the players to the poker-rooms. All large poker-sites give the possibility of cooperation – poker partnership agreements. If you have your own site, blog or the group on social media, then you can become the partner of poker-room and have a stable poker income.
The earning scheme at poker affiliate program
You register as a partner in one of the largest poker-rooms according to your choice (we remind you that all large sites have this offer: PokerStars, 888Poker, PartyPoker, PokerDom, UnibetPoker and many others).
Post a link to your room-partner at your site or blog or banner (The writing of small review and an emphasis on the advantages of play exactly in this room will be a plus for attraction the new players and, therefore, increasing your earnings).
The users of your site or the readers of your blog who are interested in this promotion will register by clicking on this link.
If the players, who you attracted to the poker-room, have made the deposit and began to play for real money, then you will be rewarded for their attraction.
Partner program types
The partner programs of different poker-rooms may differ in the payments terms:
The percent from the rake. This system means obtaining the profit as a percentage from the rake paid by the player. Usually this percentage varies from 15% to 40%. Thanks to this system you can get money from the attracted player until he plays and generates the rake.
CPA (cost per action). The essence of this program is that you get a fixed profit regardless of the rake sum which will be generated by the player. The attracted player is a player who made the minimum deposit in your partner poker-room. As a rule, the minimum amount of deposit is from $10 to $30.
Mixed program. This system is a combination of two above mentioned systems. According to terms of this partner-program you will get money both immediately after the player's deposit and for the rake generated by him.
Example of the partner-program with a payment of percentage from the rake in PokerStars room
After attracting 1-2 players you will get 15% from their rake
3-5 players – 20%
6-10 players – 22%
11-20 players – 25%
21-40 players – 27%
41-80 players – 30%
81-200 players – 32%
201 players and more – 35%
Let's consider the example in the figures:
You attracted 2 players who generated $100 rake per month. In this case your profit will be $15 from everyone – in total $30 per month.
You attracted 50 players and each of them also generated $100 rake per month. Now you will get $30 from everyone's rake, it will be $1,500 in total per month.
You attracted 210 players and the rake also is $100 per month from everyone. You will get $35 for every player and your profit will be $7,350 in total per month only for the attracting of new players.
Example of CPA partner-program in 888Poker room
If you managed to attract a certain number of players per month, then you could get the following payments:
Attracting from 1 to 5 players - $65 for every
From 6 to 10 players – 100$ for every
From 11 to 30 players – 125$ for every
From 31 to 50 players – 150$ for every
From 51 players and more – 200$ for every
How to register in a partner program of the poker room?
In order to show an example, let's consider PokerStars affiliate program
Website starsaffiliateclub.com
You should click "Apply now"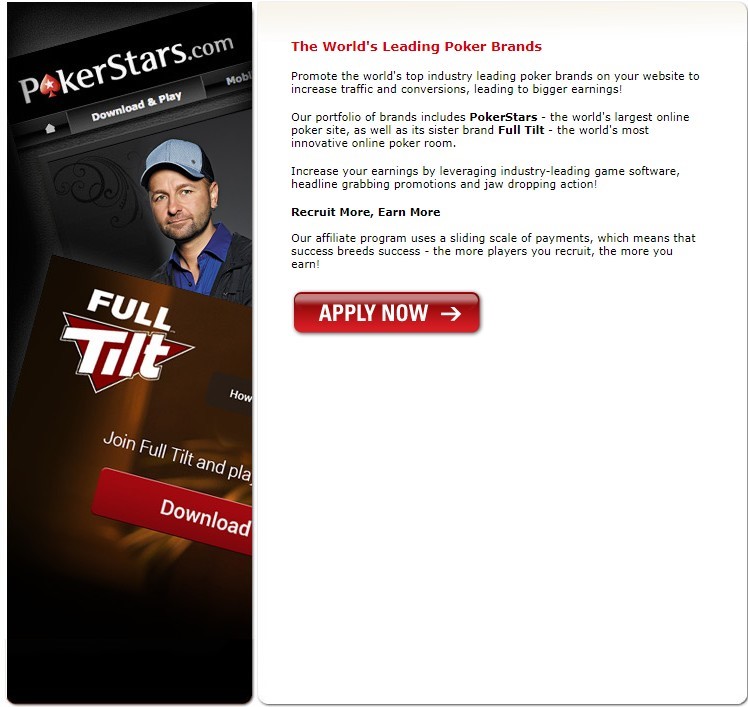 Then you will be redirected to the registration tab where you should indicate your personal data (It is important: in order to become a partner of PokerStars, you should have an account for play in the poker room for the purposes of being related).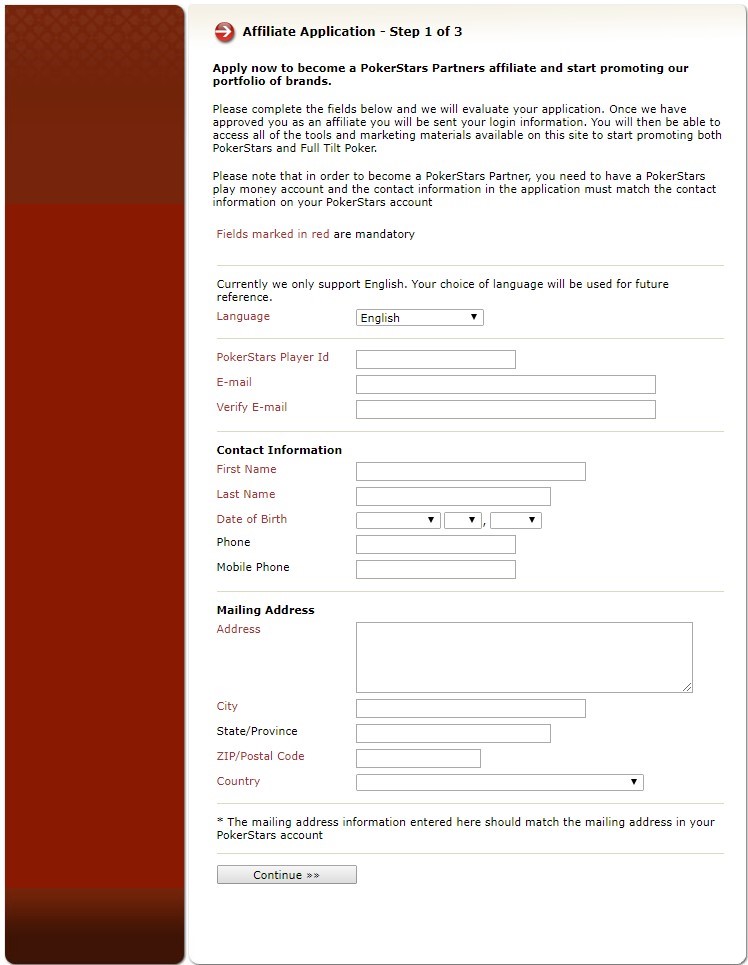 After registration you will get e-mail with confirmation and instructions.
You should select the promotion method of the poker room and the ways of its placing at your site (references, banners, or advertisement e-mailing to the users of your site).
Such registration scheme is widespread among all large poker rooms. Become the partner, attract the players and earn money!