A Big Hand for the Little Lady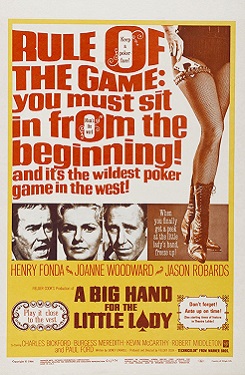 A Big Hand for the Little Lady
Cast:
Henry Fonda (Meredith), Joanne Woodward (Mary), Jason Robards (Henry Drummond), Paul Ford (Bollinger), Charles Bickford (Benson Tropp)
The film "A Big Hand for the Little Lady" was first shown half a century ago. But its history could happen in the Wild West also in our time.
The main characters – a couple Meredith and Mary who were headed for California in order to buy their own farm. On the way, they stopped in one of the villages and found out that several rich people gathered there to play poker for big money.
Meredith wasn't very strong in poker, but temptation was too big. Relying on luck, he put all common property of the couple in the bank and joined the game. But he couldn't exactly foresee that he would have a heart attack in the middle of the game and his wife Mary who even didn't know the rules of the game would have to finish the play...
Interesting facts about the film:
The slogan of the film: "The rule of the game: you must sit at the table from the very beginning! And this is the wildest game in the whole West! ".