Aces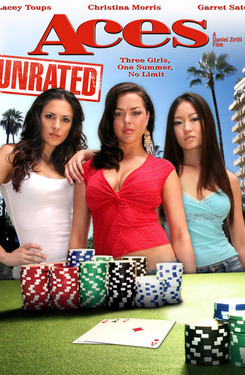 Aces
Cast:
Lacey Toups (Brook), Christina Morris (Elle), Sheena Chou (Pieti), Garret Sato (Chow)
The film «Aces» is about girls in poker. In the center of the plot, there are three female students, each of whom has got a special ability. Brook is good at mathematics of poker and is able to remember the cards easily; Elle can divert the attention of players and disorient opponents with the help of her charm and Pieti is a «cyber-nerd» and understands modern technologies well. By combining their efforts, the girls intend to conquer the world of poker and gambling games by earning lots of money.
The coherent trio starts to implement the plan enthusiastically. Watch the film «Aces» (2006) to figure out what happen in the end.
Interesting facts about the film:
The tagline describes the film briefly in the following way - «Three Girls. One Summer. No Limit.».