All In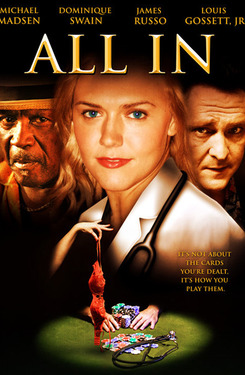 All In
Cast:
Dominique Swain (Alicia "Ace"), Michael Madsen (Seal), Louis Gossett Jr. (Caps), James Russo (Dr. Pennington), Colleen Porch (Dr. Redmond), Scott Whyte (Barrett)
Unlike most poker films, «All in» doesn't narrate a story about a male player – it tells about a female poker player. The main character is called Alicia Anderson (Dominique Swain) - she is a daughter of a successful player (Michael Madsen), who taught her not just the rules of Texas Hold'em, but also the subtleties of the game and the mathematics of poker. Unfortunately, the girl's father dies in a car accident, but she recalls his lessons years later.
Alicia studies at the medical school where she makes friends with a couple of students who like gambling. Along with them, Alicia conquers the world of poker in a casino.
At first, she manages to pretend to be a naive blonde and earn easy money for herself and her friends but with time, the stakes rise and the game gets more serious. In addition, it becomes more difficult for the girl to combine her studies at the medical school and poker.
Not only every female poker player should watch the «All in» (2006) film, but also skeptics who think there is no place for women in poker.
Interesting facts about the film:
In the film, Alicia is called "Ace" (in poker – the highest and most valued card in the deck of playing cards).
Several famous poker players, including Eric Seidel and John Juanda, played episodic roles (themselves) in the «All in» movie.
The tagline of the film is «It's amazing how many ways you can be.... all in».
Film trailer: