All In: The Poker Movie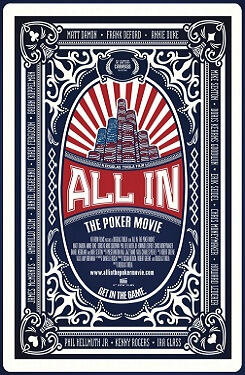 All In: The Poker Movie
Cast:
Karen Abbott, Peter Alson, Nick Brancato
If you are looking for a real poker film, then you should watch «All In: The Poker Movie» (2009). It contains interviews of many famous professionals, people who are close to poker, politicians and those who have something to do with poker industry. Film creators literally went «All-in» and collected a great number of interviews with interesting people who can professionally speculate about subtleties and features of the game.
The film tells the entire history of poker, the emergence of the game in the USA, its heyday, the poker boom, the dawn of the online poker era and its breakdown during the «Black Friday» events, etc.
The filming format, based on numerous interesting interviews, fills the movie with sincerity and makes it more exciting. People narrate about the game and its intricacies from personal experience.
Among other things, the film raises issues of importance and correctness of bluffing, as well as how to read opponents, how to figure out who is strong or weak; questions about mathematics and psychology of poker. Successful poker players try to answer the questions using their personal experience. Therefore, it will be not only interesting, but also useful for you to watch the poker documentary «All In: The Poker Movie».
Interesting facts about the film:
The tagline of the film sounds plain and simple - «Get in the game», as if inviting viewers to join the poker world.
Well known professionals often take part in filming documentaries and this movie isn't an exception. Here you can see Phil Hellmuth, Daniel Negreanu, Antonio Esfandiari, Annie Duke, Joe Hachem, Barry Greenstein and other eminent players. A famous actor Matt Damon has also starred in this film.
The film begins with an episode in which different players tell about a moment each of them learned or heard about Black Friday for the first time... an event that caused a ban of online poker in the USA.
Watch «All In: The Poker Movie» in English online:
Film trailer: