California Split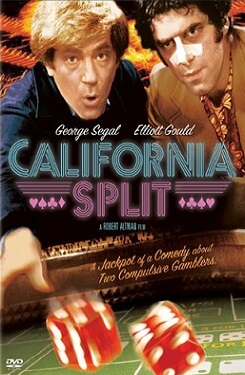 California Split
Cast:
George Segal (Bill Danny), Elliott Gould (Charlie Waters), Ann Prentiss (Barbara Miller), Gwen Wells (Susan Peters)
Two poker players are in the center of the movie "California Split". The journalist Bill Danny and Charlie Waters who hadn't found the job at that time, met at the card table. They shared a passion for poker, so the guys quickly found common language and became a real team. They played everywhere until finally decided to go to famous American casino "Reno". Bill and Charlie managed to beat the notorious professional and legendary poker player Amarillo Slim and won a big money, but after achieving success, each of the players made conclusions.
This film combines two seemingly incomparable genres - drama and comedy, and as subtly as poker it carries different emotions, balancing on the brink between the fabulous success and overwhelming failure.
Interesting facts about the film:
The movie slogan sounds like this: "California poker ... the story about two guys who like to bet on anything, and who got lucky." In principle, this sentence well describes the film's subject.