Do san 3: Chi siu nin do san (God of Gamblers 3: Early Years)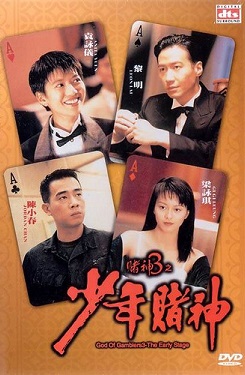 Do san 3: Chi siu nin do san (God of Gamblers 3: Early Years)
Cast:
Leon Lai (Ko Chun), Anita Yuen (Seven), Jordan Chan (Lone Ng), Gigi Leung (Kent Hing), Francis Ng (Ko Ngo), King-Fai Chung (Kent)
First two parts of «God of Gamblers» trilogy show the adventures of an adult Ko Chun, while the third part tells the beginning of his story. A young orphan has just began to learn the basics of gambling games from a skilled card cheater named Kent, who started to look after the guy and a couple of other children (player's brother and sister-in-law).
The gambler notices Chun's phenomenal memory and incredible luck, and with time he realizes that Ko becomes a strong rival for him. Therefore, decides to get the talented young man out of the way on the eve of the popular Chinese poker tournament, having incited the guy's brother-in-law. They have almost reached the aim...
Watch «God of Gamblers 3» online with English subtitles: