Dou san 2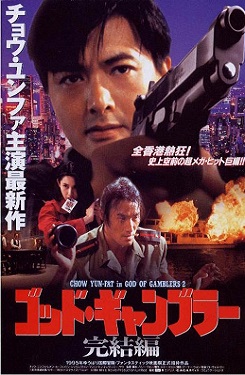 Dou san 2
Cast:
Yun-Fat Chow (Ko Chun, the God of Gamblers), Tony Leung Ka-fai (Siu Fong-Fong / "Little Trumpet"), Jacqueline Ng (Siu Yiu- Yiu), Charles Hyun (Lung Wu "Dragon"), Chingmy Yau (Hoi Tong), Hsing-Kuo Wu (Chao Siu Ling / «The Devil of Gamblers»
The second part of "Dou san 2" is the continuation of adventure "Dou san" Ko Chun. The actions took place 4 years later after the last meeting with the hero. He spent all this time in France, where he found a wife and they were preparing to become the parents.
Chao Siu Ling was a player called «The Devil of Gamblers» and he broke the family idyll. He was released, and wanted to conquer the title of gambling king and to own 16 billion in a charitable foundation.
Ling killed the beloved of Chun and he swore to her on her deathbed that he wouldn't play for a year and went on a journey.
Two weeks before the anniversary of her death, Ko met the owner of a gambling house, which his sworn enemy intended to grab, and he decided to help him by preventing Chau Siu Ling from doing it. The "God of gamblers" concealed his real face and took two card sharps for his assistants.
Watch three films "Dou san 2" at our site.
Interesting facts about the film:
Some comedy scenes were filmed in order to warn the people not to visit illegal and fraudulent gambling establishments.
During the filming of one of the scenes, a lot of fans of Chou Yun-Fat (who played the role of Ko Chun) gathered and they blocked the auto-road.
Movie trailer: