Havana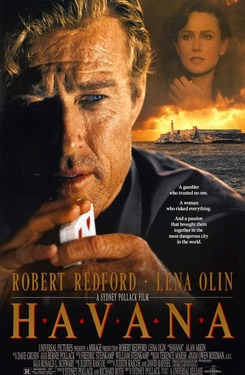 Havana
Cast:
Robert Redford (Jack Weil), Lena Olin (Bobby Duran), Alan Arkin (Joe Volpi), Tomas Milian (Menocal), Daniel Davis (Marion Chigwell), Tony Plana (Julio Ramos)
While viewing «Havana» film, you will not only plunge into the atmosphere of excitement and poker but also become witnesses of a great love story that occurs in the background of the Cuban revolution.
Having arrived in the capital of Cuba, Jack Weil, a professional poker player, sets himself a goal to play big in casinos and clubs in Havana to profit from the rich locals and wealthy visitors. The guy doesn't rely on luck since he is well versed in psychology and mathematics of poker.
Jack organizes an expensive game and everything seems going according to the plan. He is far from political events that may get him into trouble. But a charming female revolutionary and a wife of famous doctor and aristocrat Robert Durand appears in the poker player's way. She wins Jackr's heart and changes his worldview.
As a result, Jack is embroiled in a forbidden romance and the revolution events that change the history of Cuba.
Could Weil imagine what the poker trip to Havana would turn out to be for him?
Interesting facts about the film:
The film was nominated for an Oscar and a Golden Globe in 1991 for the best soundtrack, but it never got a single award.
Film trailer: