Honeymoon in Vegas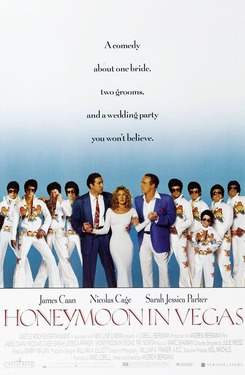 Honeymoon in Vegas
Genres:
Melodrama, Thriller
Cast:
James Caan (Tommy Korman), Nicolas Cage (Jack Singer), Sarah Jessica Parker (Betsy / Donna), Pat Morita (Mahi Mahi), Johnny Williams (Johnny Sandwich), John Capodice (Sally Molars), Robert Costanzo (Sidney Tomashefsky)
Anything may happen in Vegas, especially if you go there to get married and spend your honeymoon, as a private detective Jack and his beloved Betsy did. The guy promised his dying mother never to marry therefore, having doubts in correctness of his decision, he goes to play cards. Local millionaire and casino owner Tommy invites Jack to play private game, but the stakes are pretty high. Having overestimated his capacity, the guy loses more than $50 000. He doesn't have such amount of money and Tommy offers the boy to pay off the debt in a different way - by letting him spend a weekend with Jack's fiancée. There is no way out and the guy agrees. Just imagine how Betsy will react to this situation.
Fortunately, gallant Tommy invites her to Hawaii, and jealous Jack follows them.
Interesting facts about the film:
The actors who performed main roles had a romance during the film shooting. Cage and Parker were dating about a year.
Watch «Honeymoon in Vegas» in English online:
Film trailer: