Lock, Stock and Two Smoking Barrels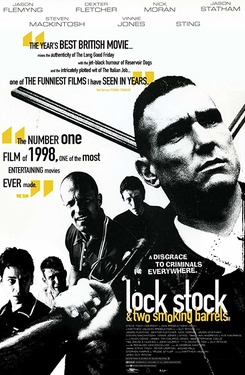 Lock, Stock and Two Smoking Barrels
Countries:
United Kingdom of Great Britain and Northern Ireland
Cast:
Jason Statham (Bacon), Nick Moran (Eddy), Jason Flemyng (Tom), Dexter Fletcher (Soap), Vinnie Jones (Big Chris), Lenny McLean (Barry The Baptist), P.H. Moriarty (Hatchet Harry)
The film «Lock, Stock and Two Smoking Barrels» is full of interesting characters, but in the very center of the plot, there are four friends - Bacon, Soap, Eddy and Tom. They collect $100 000 and put the money at stake in a poker game against local crime boss and clever cardsharper named Hatchet Harry. The guys are sure about their friend, but he overestimates his chances, increases the bets, and as a result - loses more than he is able to afford. This involves all four men into problems, and they are given only a week to get half a million dollars to pay off the debts, otherwise each of them may lose his fingers first… and then life.
The critical situation requires non-standard actions and the heroes take a desperate move – rob the bandits. But it isn't so simple. At the same time, the very same bandits are robbing "nerds" who grow marijuana for a baron of the drug mafia. What final of the story does await each of the characters - watch the movie to the end to know the answer.
It is colorful characters, saturated plot, continuous action and excellent soundtracks that make «Lock, Stock and Two Smoking Barrels» a great movie. We highly recommend watching this film stream to fans of Guy Ritchie's movies.
Interesting facts about the film:
Vinnie Jones is a famous bully and it became clear on the very first day of filming. He came straight to the movie location from the police station. The day before, he was detained for beating up a neighbor. I totally complies with the style of his character Big Chris. This is the first film role of the ex-football player, but it's also far from the last one - he has starred in over 100 movies so far.
At the beginning of the film, Statham appears in front of a viewer playing a role of himself before meeting Guy Ritchie since he was a street vendor before turning into a famous actor.
The final episode was re-shot a couple of times since Guy Ritchie could not decide what the final would be.
In the movie, there are many obscene expressions. For example, popular word "fuck" was used 125 times.
The tagline of the film is «They lost half a million at cards, but they've still got a few tricks up their sleeve».
Watch «Lock, Stock and Two Smoking Barrels» in English online (full movie):
Film trailer: