Maverick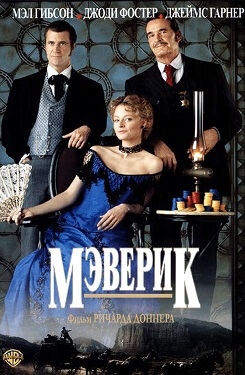 Maverick
Genres:
Western, Action, Thriller
Cast:
Mel Gibson (Bret Maverick), Jodie Foster (Annabelle Bransford), James Garner (Marshal Zane Cooper), Graham Greene (Joseph)
In this film Bret Maverick appears in front of the audience as a professional player of XIX century, who wants to play in large poker tournament in the Wild West. He needs to collect $25,000 for participation in it and he is looking for different ways to get the necessary bankroll.
The charming thief Annabelle is going to play in this event and she becomes the companion of Bret on the way to the big game. Like Maverik, she tries to find money for the tournament, but stealing it from a poker player seems to her the simplest way.
Maverick found the adventurous ways to get money, but what he didn't know that winning in the tournament could bring him even more trouble.
We advise to watch the movie "Maverick" not only for the poker connoisseurs, but also for fans of adventure comedies in a western style.
Interesting facts about the film:
"Maverick" box office exceeds $101 000 000 and the movie is included into the highest-grossing films of America.
There was a famous shooter Johnny Hardin in the Wild West. In the first scene with the cards one player introduced himself with this name.
In the "Lethal Weapon" Mel Gibson and Danny Glover played the main characters (police mates). In "Maverick," Danny played the role of one of the robbers, so Maverick's phrase that the robber's face seemed familiar to him, sounded funny. It was inserted into the film as a reference to the franchise.
Before the appearance of the movie in 1957, the TV series Maverick was filmed. James Garner, who played the role of Bret in it, appeared in this film. This time he played Zane Cooper.
Movie trailer: