Oscar and Lucinda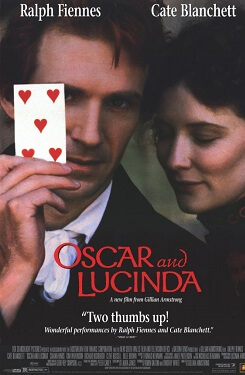 Oscar and Lucinda
Countries:
United Kingdom of Great Britain and Northern Ireland, Australia
Cast:
Ralph Fiennes (Oscar Hopkins), Cate Blanchett (Lucinda Leplastrier), Ciarán Hinds (Reverend Dennis Hasset), Tom Wilkinson (Hugh Stratton), Richard Roxburgh (Mr. Jeffries), Clive Russell (Theophilus)
Oscar Hopkins is an English priest from a poor religious family. Lucinda is a wealthy business woman who is used to violate generally accepted attitudes. Having inherited large capital after her parents' death, she buys a glass-making plant. What unites two of these so different people? The answer is simple - passion for gambling. Poker, cards, betting - all this brings both characters a great deal of pleasure.
By chance, they meet at the game table during the voyage trip. Their acquaintance becomes fateful and the common passion for gambling leads to an unimaginable prop bet. Lucinda is going to create a glass church and Oscar intends to deliver this art object to Australia, where his new friend comes from. From the sidelines, it looks like a senseless and useless idea, but each of the characters puts his own meaning into it.
Watch the given film to know how two great actors (Fiennes and Blanchett) managed to play the roles of two so strange characters as Oscar and Lucinda.
Interesting facts about the film:
The tagline of the film is «They dared to play the game of love, faith, and chance».
Watch «Oscar and Lucinda» in English online:
​
Film trailer: