Pistol Whipped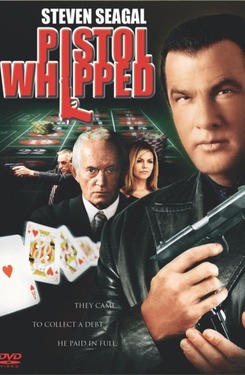 Pistol Whipped
Genres:
Action, Thriller, Drama, Crime
Cast:
Steven Seagal (Matt Conlin), Bernie McInerney (Father of Joe Maloney), Lydia Jordan (Becky)
Gambling debt is not a joke, especially if you owe the powerful people big money. The main character of movie – ex-policeman Matt Conlin learned it from the school of hard knocks. The passion for gambling and drinking lured him into a debt pit and Matt was staying afloat and trying to become better only for the sake of his daughter.
Suddenly, the chance of getting out of an unpleasant situation appeared for Conlin. It lied in the fact that unknown person bought his debts, but later Matt realized that it wasn't that simple, and he would have to pay a high price for this. The stranger inveigled him into a deadly game.
The policemen's endurance and his desire to become a good father for his daughter helped Matt, but the way to freedom remained very difficult.
Interesting facts about film:
The budget of film was 10 million dollars and $7,000,000 of them was a fee of Seagal.
Movie trailer: