Poker Night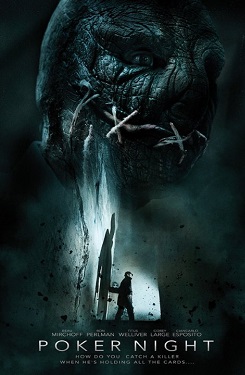 Poker Night
Genres:
Horror, Action, Thriller, Crime
Cast:
Beau Mirchoff (Stan Jeter), Ron Perlman (Calabrese), Giancarlo Esposito (Bernard), Ron Eldard (Cunningham), Corey Large (Davis), Halston Sage (Amy), Lochlyn Munro (Nate Munson)
The "Poker Night" film was released in 2014 and it is one of the very few poker movies filmed in the 2010s. This film isn't about professional players, expensive cash games or popular tournaments - it's a detective horror movie that starts with a home poker game.
In the center of the plot, there is a young detective named Stan who gets invited to play a traditional home game of poker by his senior co-workers.
While playing poker the guy finds out a lot of new information about the work of a detective and his colleagues. After drinking a couple of glasses of alcohol with them, Stan goes home but on his way, the young man makes a fatal mistake - he takes the dispatcher's call and moves to the crime scene. As a result, Stan Jeter gets caught by a vicious maniac.
The plot develops with every moment the guy is getting captured and with every recollection of the evening of poker. In addition to Stan, the maniac captured a daughter of the policeman with whom the boy played that night. She is also a girlfriend of Stan. How would this night end? Would the young detective manage to break out of a psychopath's clutches?
If you are brave enough to watch «Poker Night» – get it done since an interesting denouement awaits you there.
Interesting facts about the film:
The tagline of the film sounds pretty scary: "How do you catch a killer when he's holding all the cards ..."
​Film trailer: