Rounders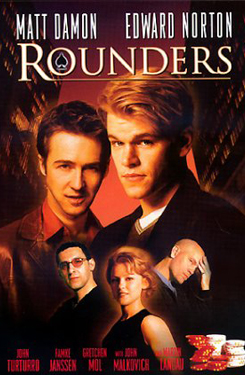 Rounders
Cast:
Matt Damon (Mike McDermott), Edward Norton (Lester "Worm" Murphy), Gretchen Mol (Joe), John Turturro (Joey Knish), John Malkovich (Teddy KGB), Famke Janssen (Petra), Martin Landau (Professor Abe Petrovsky)
"Rounders" is often called as the benchmark of a poker movie. This film gained popularity among the game's fans, and even some professionals hold it up as an example of "good poker movie", despite the fact that it is about an underground game.
When watching "Rounders" you will dip into the atmosphere of illegal poker clubs of 90's in New York together with a pair of charming sharpers – Mike (Matt Damon) and Lester named «Worm" (Edward Norton).
Mike is talented poker player with all the qualities of a pro and great ability to make reads on the opponents. "Worm' is inimitable sharper who is able to deal the cards in a profitable for him manner.
He just got out of prison and he has only a couple of days to pay off his old debt ($ 15,000). Mike can't leave his best friend in danger. Therefore, the guys decided to make a desperate move – to play a dirty game.
It is one of the best films about the sharpers.
Interesting facts about the film:
Matt Damon, who played a major role in the film, is actually keen on poker, he even took part in several prestigious tournaments, including WSOP.
Famous poker player Johnny Chen acted in the film "Rounders" in the role of himself. His daughter moved him forward to agree to act in the film and she wanted to get acquainted with Matt Damon.
The worm was supposed to smoke according to the script-writers' idea, but the actor who played the character (Edward Norton) flatly refused to even hold a cigarette in his hands.
In this film Mike keeps money in the book "Supersystem" of legendary Doyle Brunson and quotes several phrases from there.
Brian Coppelman admitted that the idea to write the script came to him when he visited one of the underground casinos in New York and lost $750 there.
Periodically there are rumors that the filming of "Rounders 2" has already begun or the series "Rounders" will be released, but the continuation of the original film has not yet been made.
Watch "Rounders" trailer: