Run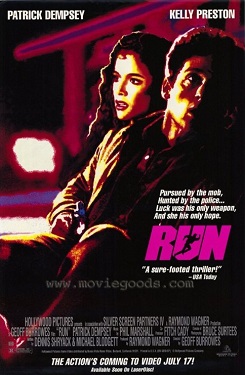 Run
Genres:
Action, Thriller, Drama
Cast:
Patrick Dempsey (James Kidnie), Kelly Preston (Karen Landers), Ken Pogue (Halloran), A.C. Peterson (Denny Halloran), James Kidnie (Sammy)
The «Run» film was shot in the early 90s. It is a story about a young poor student Charlie who works part-time as a driver. One day the guy finds himself in his client's expensive Porsche not far from Atlantic City. Having passion for card games, he decides to pop into an underground casino to play poker. Local criminals mistakenly take Charlie for a millionaire, and some Danny (a son of a big gangster as it turns out later), starts playing at the same table with him. Charlie overcomes the guy and wins big money. The story could have ended with a pleasant surprise, but it's not all as easy as it sounds...
By a quirk of fate, his opponent Danny dies in a fight later in the night. The boy's father believes that the stranger who played poker with Danny that day killed his son therefore he promises local fellas 50 thousand dollars for Charlie's head.
That's what it means to be in the wrong place at the wrong time. Thus, an innocent poker game leads to the survival race. Now the young man has no choice but to run... since no one will listen to his excuses.
Film trailer: