The Card Player (original title - Il cartaio)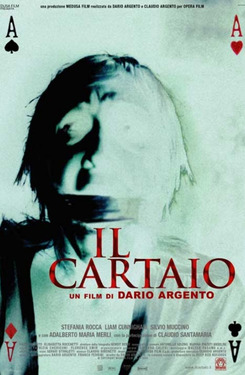 The Card Player (original title - Il cartaio)
Genres:
Horror, Thriller, Detective
Cast:
Stefania Rocca (Anna Mari), Liam Cunningham (John Brennan), Silvio Muccino (Remo), Adalberto Maria Merli (Police Commissioner)
Detective Italian horror film «The Card Player» (or «Il cartaio») is a story about a gambling maniac who took the «Card Dealer» pseudonym.
He commits a series of brutal murders and then involves local police in his game, putting at stake lives of the girls he abducted. The outcome of each unit of the video-poker game becomes truly fateful. Until the very last moment, the identity of the poker maniac isn't revealed to the public.
Will the cards help to expose the murder and rescue innocent victims?
In the film, there is a tense atmosphere, unpredictable twists and a rapid pace of development of the events - as in the classic Italian thriller.
Interesting facts about the film:
The tagline of the film - «A serial killer with a vice for video poker».
One of the most recognizable characters in the film is John Brennan since the actor who played this role (Liam Cunningham), has also played one of the main characters in the most popular TV series of our day, «Game of Thrones» - Davos Sivort.
Watch «The Card Player» online with English subtitles:

​
Film trailer: