The Music of Chance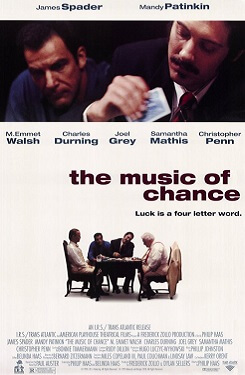 The Music of Chance
Genres:
Thriller, Melodrama
Cast:
James Caan (Tommy Korman), Nicolas Cage (Jack Singer), Sarah Jessica Parker (Betsy / Donna), Pat Morita (Mahi Mahi), Johnny Williams (Johnny Sandwich), John Capodice (Sally Molars), Robert Costanzo (Sidney Tomashefsky)
Fate throws two completely different guys together. Jim Nashe is a rich American who has recently inherited a great fortune. Jack Pozzi is a card sharper and a party lover. Quite by chance, they meet on the road. Having heard about Neshe's condition, Jack offers him a reckless scheme - to play poker with a couple of millionaires. The young man agrees, and the guys put everything they have at stake in the big game. But, instead of being doubled - they lose and are deeply in debt. This leads to the fact that Nashe and Pozzi become hostages of their poker opponents, and now they have to play a completely different game in which they can win freedom ... or lose life.
When viewing «The Music of Chance» you can easily recognize in Neshe the actor who played one of the main roles on the TV series "Think like a criminal" and "Homeland", but in Pozzi it is a bit more difficult to recognize the star of the TV series "Black List" and "Boston Lawyers", because in this film he has a magnificent head of hair, a mustache and even a beard.
Interesting facts about the film:
The tagline of the film states: «Jack Pozzi is about to take the biggest gamble of his life... ».
The film is based on Paul Auster's book «The Music of Chance».
Film trailer: