The Sting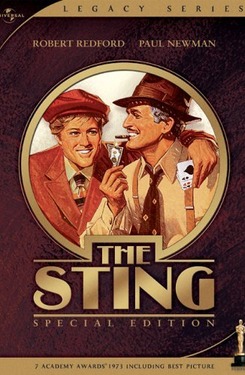 The Sting
Cast:
Paul Newman (Henry Gondorff), Robert Redford (Johnny Hooker), Doyle Lonnegan (Robert Shaw), Charles Durning (Lieutenant Snyder), Ray Walston (J.J. Singleton), Eileen Brennan (Billie), Harold Gould (Kid Twist), John Heffernan (Eddie Niles), Dana Elcar (FBI Agent Polk)
If you are interested in adventurous retro comedies, you should watch the film "The Sting" 1973. The events of the picture take place in the 30s of the last century. A pair of mediocre swindlers made a little scam which became clear in the best moment for them. Doyle Donnegan who was a mafia gang leader killed one sharper Luther, and the second sharper (Johnny Hooker) managed to escape.
He found the companion for himself – Henry Gondorf who was a comrade of a dead friend, skilled sharper and former professional poker player.
Together, they decided to get back at the villain by means of the best known way – a scam. This time it won't be a little swindle, it will be a big adventure with quite an amazing final. You will want to watch the film to the end.
The film "The Sting" is worth watching due to an interesting, easy and dynamic subject with a hint of appropriate humor and some morality.
Interesting facts about the film:
In 1974, "The Sting" received 7 Oscar awards, including Movie of the Year, and it was nominated for three statuettes. In the same year, the movie was nominated for a Golden Globe Award as a picture with the best scenario, but "The Sting" conceded this award.
With a movie budget of 5.5 million dollars, it grossed 156 million, thus multiplying the invested money by 30 times
The film was shot for 3 months from January to April, 1973.
The picture's slogan is very simple: "... all it takes is a little Confidence."
Watch trailer "The Sting" online