Wielki Szu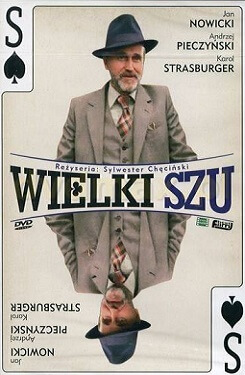 Wielki Szu
Cast:
Jan Nowicki (Wielki Szu), Andrzej Pieczynski (taksówkarz Jurek), Dorota Pomykala (Prostytutka Jola), Leon Niemczyk (Stefan Mikun), Karol Strasburger (karciarz Denel), Grazyna Szapolowska (zona 'Wielkiego Szu')
Whilst professional players are sure that poker is a game of skills, Polish cheater named Great Shu claims that the essence of poker is in tricks, which he has already capably mastered.
Great Shu is a lead character of the same-name film who has just got out of prison. He starts thinking about new ways of making money as soon as possible. An ex-wife of the gambler pays him compensation - a portion of jointly acquired property, and it is an excellent start for the future scams. First, Shu goes to a small town, ostensibly to buy a house. There, he meets a local businessman at the auction. Szu robs the man whilst playing billiards and hurriedly leaves the city along with a taxi driver Jurek, who, fortunately for the gambler, turns out to be a fan of poker and card games in general.
The gambler starts to train the naive taxi driver and persuades him to help organize a big game. However, Yurek doesn't even suspect what plan is on his mentor's mind.
For those who know Polish, it is recommended to watch the «Wielki Szu» film in the original language.
Watch «Wielki Szu» online in Polish:

Film trailer: