Poker player calls all board cards with 100% accuracy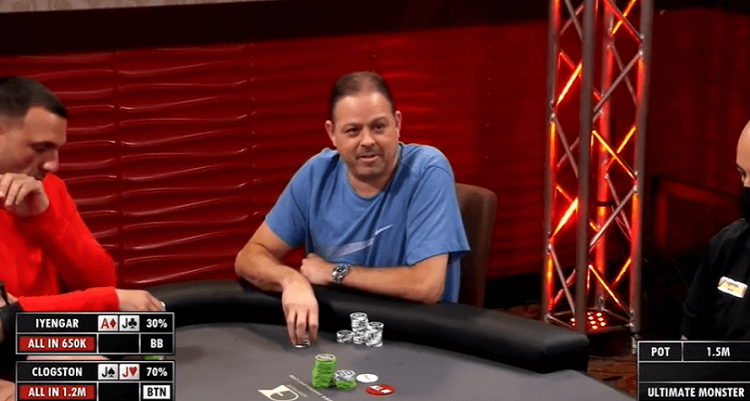 As is known, poker is a game of skill, and luck does not play a strong role in this game, although it is still very important.
However, there are people who have such amazing luck and intuition that they rapture even the most experienced and strong players.
There was a similar case in the $400 Ultimate Monster tournament. The final table of the event aired on PokerGO: it was commented by the poker host Jeff Platt, who was overwhelmed by the situation.
The fact that one of the players at the final table went all-in, and then guessed absolutely all the board cards (flop, turn, and river) to within a suit of each card.
Poker player Troy Clogston went all-in from the button with J♥-J♠. Another player named Don Iyengar called Troy's all-in, holding A♦-J♣. The guys started discussing the flop, and Clogston assumed that the flop would be 8-9-10 offsuit.
Read also: Douglas Polk's incredible fold at High Stakes Poker
And so it happened, the flop came 8♠-9♥-10♣, which shocked the players. Then, Troy assumed that the turn would be 4♠ and after that, the alleged card appeared on the table.
Clogston's opponent grabbed his head, refusing to believe it. The rest of the players were simply stunned to get such an accurate prediction.
Nevertheless, Troy decided to "destroy" his opponents, saying that the river would be 2♥. He was 100% right. After that, his opponents got up from the table and started running around the room, "yelling" in surprise.
Following the tournament, Jeff Platt tweeted that it was one of the craziest poker situations he had seen in his life. You can also watch the given hand on YouTube:
Clogston failed to win the tournament: he finished it in third place, pocketing $4 500, but his opponents will remember this event for life.