WSOP 2020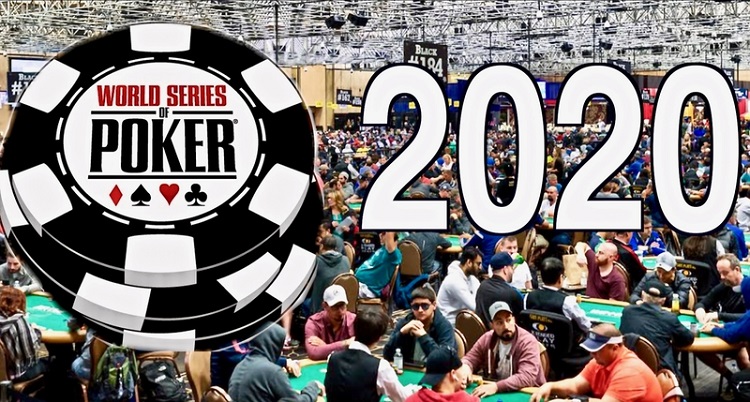 Every year, lots of players from different countries take part in the tournaments of the WSOP. In this championship, novice players have the opportunity to play at the same tables with famous poker professionals.
From May 26 to July 15, Las Vegas will house the 51st World Series of Poker 2020. There will be 78 live events and 14 online tournaments held within the championship.
At the WSOP 2020, all interested will be able to win gold bracelets by participating in tournaments with different range of buy-ins: $400 - $250K. The first trophy events is to be carried out on May 27.
Within the WSOP 2020, 17 tournaments will be carried out with an entry fee starting from $10 000 to $50 000. The champions in the most popular types of poker are determined in these events.
In addition, 14 gold bracelets will be played in online tournaments during the World Series of Poker 2020. The largest online event is to be the tourney with $10 000 buy-in, which will be launched on July 2. In order to participate in the online tournaments, you have to be in Nevada or New Jersey and play at WSOP.com.
WSOP 2020: key points
Dates and venue: May 26 through July 15, 2020, at the Rio Casino in Las Vegas (rescheduled, presumably for the fall of 2020. There will also be a WSOP 2020 online).
Number of events: 78 live tournaments and 14 online events.
Buy-ins: $400 – $250 000.
Main Event: the tournament cost $10K.
The most expensive tourneys: High Roller NLH for $100K, Super High Roller NLH cost $250K, High Roller PLO with a buy-in of $50K, two High Roller (NLH) events worth $50K each and $50K Poker Players Championship.
As for the tournaments cost $1 500, the organizers of the series created a separate leaderboard «Player of the Year». In total, there will be 25 events with the given entry fee carried out at the series.
The detailed schedule of the WSOP 2020 can be found on the official website. Read the best news on the WSOP in our storyline titled «World Series of Poker 2020».
UPD: World Series 2020 poker supposedly postponed to fall 2020 due to the coronavirus pandemic. From July 1 to September 6, the WSOP Online 2020 series will be held at WSOP.com (for players from America) and in the poker rooms of the GG Network (for players from all over the world).