Poker streamer won WSOP bracelet in a live broadcast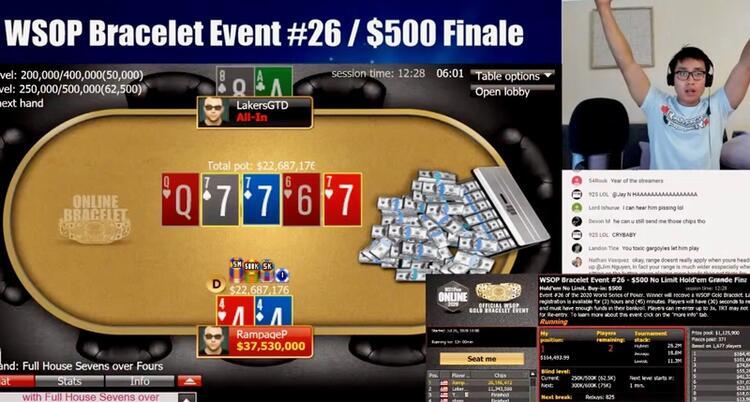 ​
On Sunday evening, the 26th WSOP Online 2020 bracelet event was held at GGPoker. 1 677 players took part in the final with $500 buy-in, and they made 825 re-entries in total. After that, the prize pool of event reached the mark of $1 125 900.
After 12 hours of play, the 22-year-old player Ethan Yau became the winner. Ethan got a gold bracelet and $165 000 of prize money for his triumph. Yau is known in the poker community for his streams. His YouTube channel has 20 000 subscribers, and most of them watched Ethan's fight for the victory in the final of bracelet event in a live broadcast.
Yau calls himself a losing player, as he plays at micro stakes in the cash games. After his victory in this tournament and earning of $165 000, it is difficult to call him unprofitable player. It is unlikely that Yau could lose more than this amount at micro stakes.
Read also: Daniel Negreanu's Twitch was banned
After his winning, the first thing Ethan did was extending a lease of his New Jersey apartment for one more day. He is also wondering how to inform his mother about the victory, as she is not aware of his adventure resulted to the gold bracelet and winning of several hundred thousand dollars.
Let's get back to the past tournament. Many famous players took part in it, including Daniel Negreanu. However, DNegs took the 92 place and enriched with a modest prize money of $1 500.
Ethan achieved better result. In the final heads-up, he played against Brian Patrick, who had a two-fold advantage in stack. Then, the situation changed radically and Ethan came out ahead.
Brian went all-in with A-8 on preflop, but Ethan called him with a pocket pair of fours. Yau's pair of fours brought him the victory.
Results of WSOP Event #26: $500 Grand Finale
Ethan "RampageP" Yau – $165 000
Brian "LakersGTD" Patrick – $102 000
Mohammed "Tmomoney" Mufti – $75 000
Blake "shampainpopn" Whittington – $55 000
David "reallytight" Kim – $41 000
Jason "TATTOOMONEY" Scott – $31 000