PokerBros: Detailed Review
Category "C"
new poker rooms that strive to attract players with the help of profitable bonuses


Available for players from your country
Bad Beat Jackpot
PokerBros promotions depend on the club of your choice, but the majority of the current and proposed clubs have a Bad Beat Jackpot promotion. Its size is indicated at the top of the gaming table or lobby of the room.
Terms & Conditions
18+. Poker app and platform for play money. T&C apply.
| | |
| --- | --- |
| ℹ️ Name | PokerBros |
| 🔗 Network | Independent |
| 🌐 Website | |
| 🎂 Established | |
| 😎 Owner | |
| 🧾 Licences | |
| 📱 Compatible devices | |
| ⚙️ Software usage | |
| 👨‍👦‍👦 Players online | 4000 |
| 💳 Banking options | Skrill, Neteller, Bitcoin |
| 🚀 Cashout speed | |
| 💸 Rakeback | - |
| 💲 Supported currencies | |
| 🌎 Languages | |
| 🚧 Cashout limit | |
| 💬 Live chat | |
| 🤝 Affiliate program | |
Show more information
PokerBros is one of the newest popular Asian mobile poker applications launched in 2019 by KP Entertainment.Ltd. It offers real money games in private clubs. Among analogues, PokerBros stands out for its more advanced interface and graphic design, as well as the presence of English in the client (many Asian poker applications work only in Chinese, which complicates the work with them). The number of users of the room is actively growing in 2020. In the application you can meet many Asian players, as well as poker players from the United States and Latin America.
PokerBros is an online social gaming platform and does not provide any real money service.

Since many PokerBros players are from countries where online poker is prohibited, the game is played on conditional chips, but they can be exchanged for real money through special agents. That is, like other Asian rooms, PokerBros uses the application with conditional chips as a platform for real money games.
The PokerBros poker platform is designed for mobile applications based on Android and iOS. This is a fairly popular client, focused mainly on players from America and Asia. The poker room PokerBros attracts regulars with a weak field where there are a lot of fish, as well as a game against recreational players from the USA and Canada. Players can download the app on Google Play and the App Store. The integrity of the game in the room is verified by Gaming Labs according to all applicable standards.
Please contact our reliable PokerBros agent in a special chat or at [email protected] and he will help you register, choose a club, make all transactions and answer all your questions. You will receive a high rakeback, a guarantee of the safety of funds in the event of force majeure, a low withdrawal commission and many other bonuses.
PokerBros is not a sponsor of or in any way involved with this promotional activity, nor does PokerBros endorse it.

Software Overview
The poker room PokerBros is designed as a mobile application, therefore it has a vertical orientation and a typical interface for poker applications. The advantage of the platform is more advanced graphics and an expanded set of user settings. So, PokerBros users can choose a ready-made game table theme from the proposed ones, or set the appearance of individual elements at their discretion: Table cloth, Button, Background, the type of the cards in the deck. All this can be configured in the "Theme Setting" section. It is located in the drop-down menu to the right of the avatar (button in the form of three horizontal stripes).
Players can use notes on opponents. You can select one of seven color coding and add small info on the player.

​
The interface of PokerBros is made in blue-violet tones, which are somewhat reminiscent of the colors of our site.
In the main lobby, the player sees the icons of the clubs in which he is a member. They can be scrolled and selected. The player's nickname is displayed at the top of the club lobby, also his current balance, the size of the bad beat jackpot (if it is active in the club). The lobby itself displays several tables and basic filters to find the right game. The game format is displayed above them.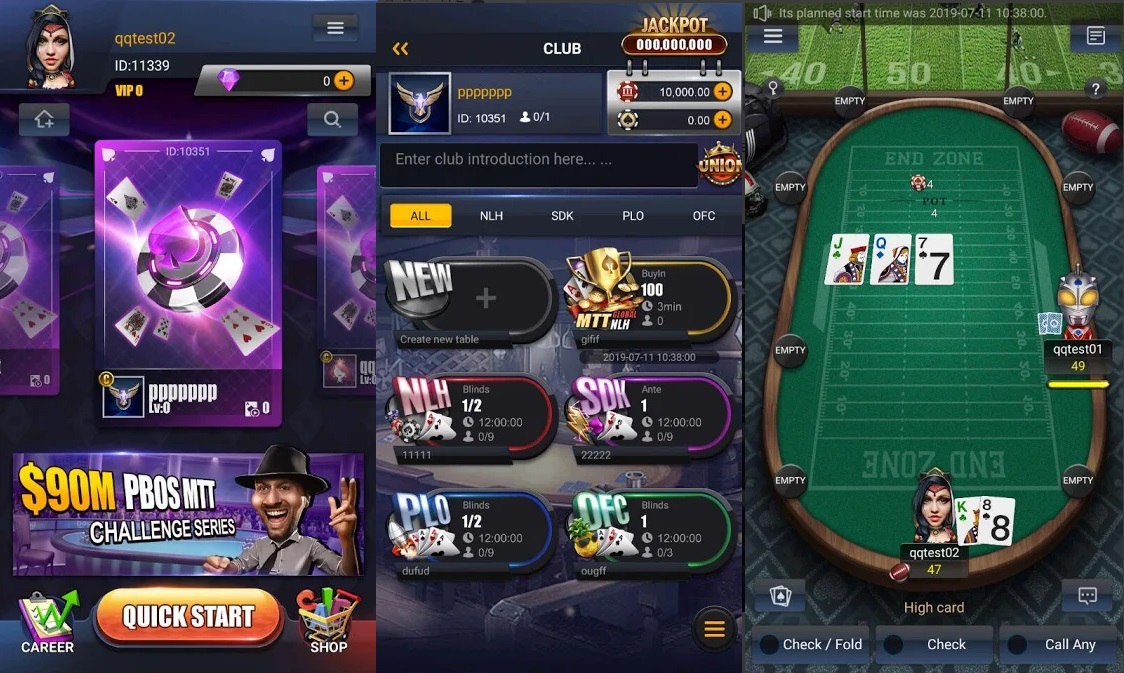 On the table icon are all the necessary information: game format, blinds, number of players and table activity time. For user convenience, active tables are marked with animated yellow arrows.
You can play at PokerBros at three tables at the same time. For multi-tabling, the application must be installed on a PC and resort to the help of emulators.
When installing PokerBros on a computer, you can use HUD through special converters.
Traffic and Game Availability
The following formats are available at PokerBros:
NLH – no limit hold'em.
PLO – Pot-Limit Omaha.
SDK – shortdeck poker (Hold'em with a short deck or the so-called Hold'em 6+).
OFC – Chinese poker.
Chinese poker and Hold'em 6+ are not currently available in all top rooms, so if you are a fan of these popular formats today, you can find them on PokerBros.
In 2020, PokerBros is inferior in traffic to its competitors, since the room was launched recently. The main traffic in the application is made up of players from the USA. Therefore, the most active game on the platform can be found early in the morning and late at night according to European time.
However, throughout the day, the platform has active tables at all limits. The largest number of users of the application plays in the format of No Limit Hold'em.
Most actively, the game goes on the limits from NL10 to NL1K. Periodically, NL2K-5K tables appear in the application.
Every day, up to ten MTTs are held at PokerBros, which is also a plus of the platform compared to competitors, because in most Asian applications there are no tournaments.
Game availability and traffic may vary depending on the club you have chosen.
Limits
The game is played in the format of no limit hold'em, pot-limit omaha, Hold'em 6+ and Chinese OFC poker.
Limits and traffic depend on the chosen club. This question can be clarified with the manager.
On average, a game is played at limits from NL10 ($0.05 / $0.10) to NL1000 ($5 / $10) in hold'em and PLO10-1000 at Omaha tables.
Open Face Chinese is played at limits up to $20 per unit.
Rake scheme
The rake in the application is calculated using the Weighted Contributed system. The app takes a percentage from the pot in proportion to the player's contribution to it. Rake is not deducted from hands that did not reach the flop.
The standard rake size is 5% (in Chinese poker 3%). CAP at the same time 3BB (at limits above NL200 it drops to 2BB).
Pros and Cons of Playing at PokerBros
Quick withdrawal of funds.
Weak field players.
Works on mobile phones.
Quality software.
Convenient and fast transfer of chips between clubs.
English-language support, advice on playing on the site and advice on any issues for players registered through our agent.
High rakeback.
The most active game in the application takes place in hours that are inconvenient for European poker players.
Non-standard poker room system, which differs from the usual poker rooms.
Lack of independence in financial transactions.
Deposits and Cashouts
The application does not charge a commission for making a deposit. At PokerBros the game runs in US dollars. The minimum deposit amount is $300.
The available deposit/cashout methods depend on the club. Usually it is Skrill, Neteller, Bitcoin.
How to make a withdrawal
This is a game for play chips (play money), you can only buy them, but you can not exchange them for money back.
The application charges a commission for making a withdrawal. It depends on the club in which you play.

To make a deposit, contact Cardmates via live chat or via email [email protected].

FAQ
🌍 Can players from the USA play at PokerBros? Is PokerBros available for Americans?
Yes, this poker room accepts American players.

💳 What is the minimum deposit at PokerBros?
The minimum deposit is $300.
💲 How to make a deposit at PokerBros?
To make a deposit, contact Cardmates via online chat or by email at [email protected].

⛔ What if PokerBros isn't working?
Try restarting and reinstalling the client. If after that the system still does not work, then write to our agent to fix this problem.

📲 How to download PokerBros?
You can download PokerBros from App Store or PlayMarket.
💸 How to play PokerBros for free?
Since most players are from countries where online poker is banned, PokerBros uses a play money application as a platform for real money games. This means that you can initially play for free and only by contacting a club agent you can start the game for real money. There are many clubs in the app for a free poker game.

📧 How to contact poker room support?
We recommend that you write to our agent at [email protected], who will advise you and answer questions.

📈 Can I use PT4, HM3 on PokerBros?
The PokerBros application does not support such auxiliary programs as Poker Tracker, Hold'em Manager and Hand2Note, but players use poker software using a special converter.

🎁 Is there a no deposit bonus and first deposit bonus?
No deposit bonus is not available, but PokerBros players get a high rakeback every month.

PokerBros Players Reviews
This page is collecting real reviews of PokerBros. Therefore, if you are looking for everything about PokerBros reviews and information about the poker room, look in the comments.
Please note if possible which PokerBros club you play at.
Leave your review about PokerBros